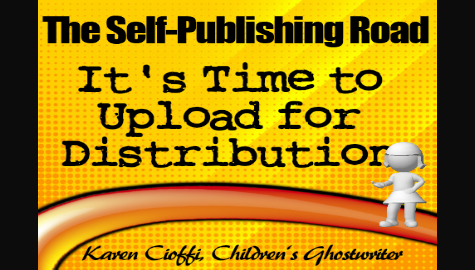 I have an in-depth four-part article series on self-publishing from the point of having a polished and edited manuscript that's ready to go.
I went over hiring a book formatter, getting a book cover, getting an ISBN, a barcode, and an LCCN. You can check out the first three articles at the end of this one.
I didn't however get beyond the point of getting your book formatted and getting print-ready-files that you'll use to upload to distributors and retailers.
You have your print-ready files in hand.
Okay, let me backtrack just a bit.
Pricing Your Book
When you register for the ISBN and the LCCN, you'll be asked the price of your book, so figure that out beforehand if you can. If you can't figure it out, you'll definitely need to figure out what you'll be charging at this point.
First know that different retailers may have different pricing rules. Check the retailers you'll be focusing on.
If you want an ebook and you're going with Amazon and want a 70% royalty rate, you'll need to price your book between $2.99 and $9.99. For a full list of Amazon's list price requirements, click the link.
If you're publishing a paperback, the pricing works a bit different. Amazon or any other retailer or distributor will need to factor in the cost of printing.
Keep in mind that printing a children's picture book will cost more than a non-picture book. You can check out KDP Amazon printing costs with the link.
I'm in the process of finalizing the formatting of my nonfiction book on writing for children. While it's 250+ pages, there are no colored pictures or text, so I'll be going with $9.99 for paperback and probably $4.99 for the ebook.
I'll also sell the ebook directly from my website using PayPal.
Now you're up to speed and ready for uploading to an aggregator or retailer. Which will it be?
First thing is to decide what service you'll be using to distribute your book.
I'm going with Amazon (retailer) and IngramSpark (aggregator). Yes, you can list your book with both.
The reason for IngramSpark is because I want to be able to sell from other retailers than just Amazon.
When you upload with Amazon, they do not distribute to other retailers. This limits your selling reach. For those who want to go with just Amazon, you certainly can.
Using an aggregator for distribution allows your book to be listed in places like Barnes and Noble, WalMart, Target, schools, libraries, and thousands of other venues.
Other aggregators include Smashwords, Draft2Digital, Ebookit, Publish Drive, and Streetlib.
FYI: An aggregator is a service that publishes and distributes your book to multiple venues.
Time to create an account.
Go to the retailer and/or aggregator you're going to use.
I already have an Amazon account for two other books, so I'll work on creating an IngramSpark account.
Note here: Amazon is free to upload an ebook or print book. Other services may not be. As of the time I'm writing this, IngramSpark is $49 to upload both an ebook and print book.
Keep in mind, you can just publish an ebook, but with POD (print on demand) there is NO extra cost for publishing a print book or a nominal cost.
Since there are still those who like to hold a book, I recommend offering both.
On IngramSpark's How it Works page, this is what you'll see: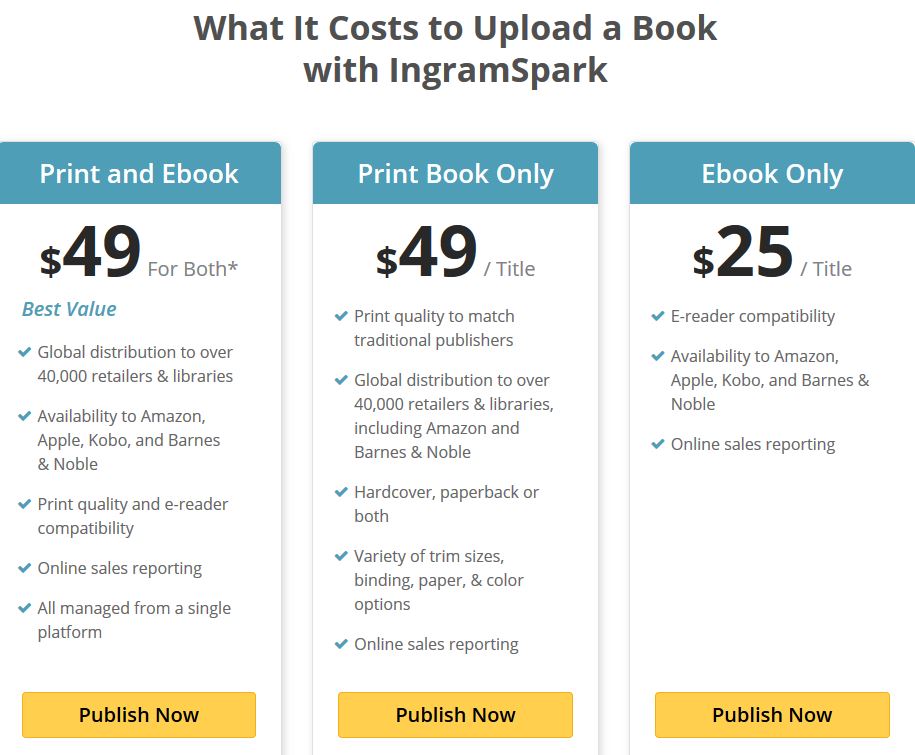 Simply click on the option you want and you'll be asked to fill in some information to create an account: your name, email address, and password.
They'll send a verification email for you to click on to activate your account.
Next, it's on to accept their agreement then fill out your personal or business information. Then you'll need to accept more agreements.
After this, you'll be brought to a page to fill out your book's information which will include:
Title
Subtitle
Description
Keywords
Think about the description carefully as well as the keywords. These marketing tools are what will help readers find your book and motivate them to buy. This is not a step to rush through.
You'll also need to provide your banking information to receive book sales payments. They also want a credit card on file to pay to upload and distribute your book/s and any other services you purchase from them.

Word of advice: Create your "Add new book" when you're ready to upload your print-ready file. I filled out all the information before I had the file to upload and lost it all. Now, I'll have to redo it.
Now onto uploading the book.
Follow Instructions
IngramSpark's new interface does have a couple of glitches, so you'll have to be patient if you're uploading now.
Follow their instructions and if you still need help, they have a community that should be able to answer your question. IngramSpark also has a number of articles on self-publishing. Or, you can do an online search.
I priced my ebook at $6.99 and the print book at $14.99. At $14.99, my royalty is about $5.
If I priced it at $9.99, my royalty would be $2-$3.
You'll also be able to include other markets: United Kingdom, European Union, Canada, Australia, and Global Connect.
I chose them all.
You can check out what your royalty will be for different prices at:
https://myaccount.ingramspark.com/Portal/Tools/PubCompCalculator
Discounting Your Book
When you fill in your pricing, you'll be asked about Wholesale Discount for book stores and other retailers of print books.
You can read more about discounting your books at:
https://www.ingramspark.com/blog/why-should-i-discount-my-book
I chose to go with the highest discount. While you'll receive a much lower royalty on your sales to wholesalers, at least you'll have the opportunity to sell more.
Returns
This is a tricky one. If you intend to sell to book stores and other retailers who buy in bulk, know that most will not purchase your book, even at a discount, IF they can't return the books.
The catch with returns is if a book is returned, you will be charged for the wholesale price of that book. So, if you allow returns, save the money from discounted purchases for a while, to make sure you have the money to reimburse for returns.
If you do allow returns, be sure to choose "Returns – Destroy." With this option you'll only pay for the wholesale purchase amount, not shipping and handling fees.
I don't know if there's a time limit on returns from discounted sales. I've researched and haven't been able to find an answer. If I do, I'll add it to this article.
You can read more about Book Returns below:
Making Your Book Returnable
Returns 101 – What Authors Need to Know
Distribution
Once you upload your book and they approve it, the distributor (IngramSpark) or retailer (Amazon) will make it available for sale.
Hope this eases the process of self-publishing your books.
You can check out the first three articles in the series here:
Self-Publishing a Book (1) – Formatting
Self-Publishing a Book (2) – The ISBN, the Barcode, and the LCCN
Self-Publishing a Book (3) – You're at the Finish Line


Let me take a look at your notes, outline, or draft. I'm a working children's ghostwriter and rewriter. I can turn your story into a book that you'll be proud to be author of.
Simply email at: kcioffiventrice@gmail.com (please put Children's Ghostwriter in the Subject line). Or, you can give me a call at 834—347—6700
Let's get your story in publishable shape today!