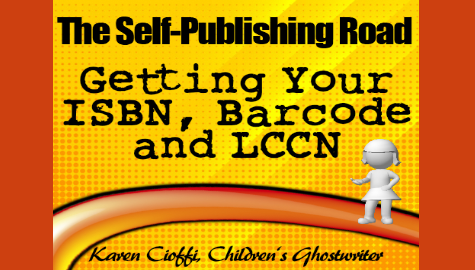 Last week, I went over ways to get your self-published book formatted. I also touched on the cover illustration and design.
Once you've chosen a book formatter and have had your front cover done, it's time to think about the International Standard Book Number (ISBN), the barcode, and the Library of Congress Control Number (LCCN).
THE ISBN
According to MyIdentifiers.com, the ISBN "identifies a book's specific format, edition, and publisher. It's the "global standard for book identification and is required by most retailers." It also provides metadata for your book which helps readers find your book. This 13-digit number is essential for paper books, but can also be used for digital formats.
Once an ISBN is assigned to a book, it cannot be used for any other version of that book or any other book.
There are a number of reasons you will need to give your book a new ISBN, including:
Each version (format) of your book must have its own number.
If you change the content within the book significantly, making it a new version or edition, you need a new ISBN. This includes adding a forward or a new chapter or content.
If you change the cover of your book, you need a new ISBN.
If you have a single book and then write another, you will need a third ISBN if you put Book1 and Book2 together in another book.
The ISBN goes on the backcover of your book – the book cover designer will include it on the cover in the form of a barcode. The information within it provides the price.
To find out more about the ISBN, go to:
https://www.myidentifiers.com/identify-protect-your-book/isbn/
Something new authors should be aware of:
If you use a self-publishing service/company to get your book out there, most likely they will provide the ISBN for you.
Sounds convenient, right?
Well, whoever gets the ISBN will be listed as the publisher of the book.
Do you really want a vanity press, if that's who you're using, or a book formatter being listed as the publisher of your book?
Whether you're publishing one book or ten books, get your own ISBNs.
Browker's MyIdentifiers is where to go. As of the writing of this article, the cost is $125 for one ISBN and $295 for ten.
I bought a pack of ten in 2017 – they never expire!
THE BARCODE
Your PRINTED book MUST have a barcode in order to be listed in major book stores and libraries.
If you don't intend to try to get your book/s into the major stores or libraries then you won't need a barcode. But the fee is nominal so it'd be wise to get it anyway. You never know – you may have a change of heart down the road.
According to MyIdentifiers, "A barcode is a graphical representation of your printed book's ISBN and price – and buying a barcode is a low-cost investment in your book's success."
Below is an example of the barcode from MyIdentifiers: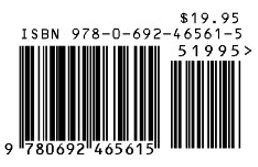 You should get your barcode from the service you get the ISBN. It may be free if you get it when you purchase the ISBN.
You can check out:
https://www.myidentifiers.com/identify-protect-your-book/barcode
If you didn't think of it when you bought your ISBN, there are services that will convert the ISBN into a barcode for free. Check out:
THE LCCN
The Library of Congress (in Washington D.C.) allows you to record your book in their system. Libraries all over the U.S. use this system to determine how to categorize your book, if they are interested in it.
It's free to get an LCCN and could take one-two weeks, but I got mine in two days.
According to the Library of Congress, the "catalog control number is a unique identification number that the Library of Congress assigns to the catalog record created for each book in its cataloged collections. Librarians use it to locate a specific Library of Congress catalog record in the national databases and to order catalog cards from the Library of Congress or from commercial suppliers."
In the event your book isn't published yet, but you want the LCCN for the copyright page of your book, you can get a Preassigned Control Number (PNC). This enables "the Library of Congress to assign a control number in advance of publication to those titles that may be added to the Library's collections."
Once your book is published, you will need to send them a copy of the paper book to make the number official.
All mainstream books have an LCCN, so take the time to get one for your book/s.
What you need to apply for an LCCN:
the name of the author
the name of the publisher
an image of the book cover
a description of the book.
I think that was about it. It's a painless and quick process.
About #2 above, have the name you'll be using as 'publisher' in hand. Think about it carefully. This will be the name listed as publisher for the ISBN and the LCCN. It's what will appear as publisher in your book.
And, if you'll have multiple books, you'll want the same publishing name. It should be part of your branding.
ADDING METADATA
This is just restating that you'll need a good description of your book when you purchase your ISBN and when you get your LCCN. You'll be asked to fill in information about your book. Make that information effective. It's what will help get your book found. This could very well lead to sales.
Any information you're asked to provide for your book, think about it carefully … think marketing.
Hope this helps you on your self-publishing journey!


Let me take a look at your notes, outline, or draft. I'm a working children's ghostwriter and rewriter. I can turn your story into a book that you'll be proud to be author of.
Shoot me an email at: kcioffiventrice@gmail.com (please put Children's Ghostwriter in the Subject line). Or, you can give me a call at 834—347—6700
Let's get your story in publishable shape today!
Or, if you'd rather give it a shot and do-it-yourself, check out my book, FICTION WRITING FOR CHILDREN.


Building a Writing Career Takes Practice and Focus
3 Steps to Querying Publishers and Agents
Balance in Fiction Writing – The Major Elements