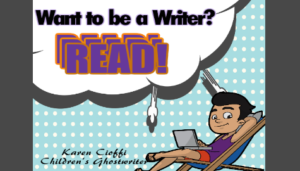 I read Suzanne Lieurance's Morning Nudge this week and one of the tips was about the one thing most important for aspiring writers.
Reading.
So what exactly does that mean, to read?
Read in the Genre You Want to Write
I've written about this a number of times. If you want to write, especially for children, you need to read in the genre you want to write.
I did this when I first started out.
When I began writing for children, I went to my local library and got book after book after book on the genre I wanted to write in,which was picture books. The books were by different authors and even publishers.
I studied each book:
– How the dialogue was written and how it was punctuated.
– What type of storylines were used.
– How the conflict was constructed.
– How the text and illustrations worked together.
– The timeframe of the stories.
– How the story was resolved.
– Who the publishers were.
– And so on.
This type of studying is a writing course in itself.
But, it's not enough.
Read About Writing
You also need to read about writing.
There are lots and lots of online sources to help you learn to write.
Read online articles on sites like:
Helping Writers Become Authors
For a bigger list, check out:
http://karencioffiwritingforchildren.com/diy/resources-for-writers/
Read Books That Will Teach You How to Write
Along with this, you should invest in books on writing, especially books that will teach you how to write in the genre you want to write.
Books that I have include:
Bird by Bird (Anne Lamott)
Second Sight (Cheryl B. Klein)
Story Engineering (Larry Brooks)
Writing Fiction (Gotham Writer's Workshop)
The Modern Writer's Workshop (Stephen Koch)
Crafting Scenes (Raymond Obstfeld)
Hooked (Les Edgerton)
Breathing Life Into Your Characters (Rachel Ballon, Ph.D.)
The Writer's Guide to Psychology) Carolyn Kaufman, Psy. D.)
On Writing (Stephen King)
The Giblin Guide to Writing Children's Books
Find recommended books and books in the genre you want to write. Study them carefully.
Writing Groups
Find one or two groups in the genre you want to write and join them.
These groups are usually filled with seasoned writers, along with newbies.
Many of them also have editors, publishers, and agents in them.
Read the questions asked by other members and the responses. This is another great way to get a writing education. And you have the opportunity to ask your own questions.
If you're a children's writer, I suggest Society of Children's Book Writers and Illustrators. It's filled with writers, marketers, and others in the writing field who know what they're doing.
Along with a lot of reading and studying, Suzanne says to, "Sign up for a writer's workshop or writing course" in the specific genre you want to write.
Online and Offline Classes
This is an important step.
While you can read and study, which will give you a great start, it doesn't take the place of learning from a professional writer/author.
Invest in time, effort, and even money, if necessary. Invest in you and your writing career.


Let me take a look at it. I'm a working children's ghostwriter and rewriter. I can turn your story into a book that you'll be proud to be author of.
Shoot me an email at: kcioffiventrice@gmail.com (please put Children's Ghostwriter in the Subject line). Or, you can give me a call at 834—347—6700
Let's get your story in publishable shape today!
MORE ON WRITING
Writing Nonfiction – Using Quotes
Your Children's Fiction Manuscript and a Ghostwriter
LIKE THIS POST? PLEASE SHARE!