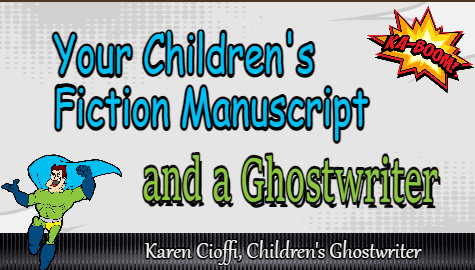 Coming up with a fiction story idea is an amazing thing. Getting notes down or a basic outline is even more amazing.
Then for some authors, it's time to hand it over. They realize they need professional help to bring the idea to life.
With this scenario, the ghostwriter pretty much has free range.
This is true because the client, the author, can envision the type of story they'd like, but they don't have any investment in how to get it there.
While there's an idea or a basic outline, the story isn't told. The writer can weave her magic and create it, with the feedback of the author as they go along, of course.
But what happens when there's a complete manuscript?
What happens when the author has taken the time and effort to not only come up with an idea, but has written the story? Whether it's taken him a few months or a couple of years, it's his baby. He's brought it to life.
In this scenario, the author is fully invested in the story.
The problem is the author may not know how to write. And, even more important, she may not know anything about writing for children. It really is a different type of writing – lots more rules.
Thinking of a couple of quick examples:
– The author may own a kennel of dogs and wants to show each dog's personality. Max is playful to the point of being hyper. Daisy loves being held and likes to cuddle. And, watch out for Dutch.
– The author is a professional and is determined, maybe even obsessed, on driving home what's good for the child. Each scene tells the child what to do.
– The author has gone on an amazing journey or has a passion and wants to share it with children. He wants it to be fiction, but it reads more like a nonfiction story.
While writing a book based on these examples will satisfy the author, it won't meet standard children's book guidelines.
It's not to say these ideas aren't good ones, each of these scenarios can be kindling for an out-of-the-ballpark story … if it's written right.
Hoping the author/client can let go.
What I've found is it can be tough rewriting a story, actually more difficult than ghostwriting from an idea or basic outline in some cases.
Some clients have on blinders. They want what they want whether it's reader friendly or not. They just can't let go of what they've written.
When this happens:
The writer often becomes a writing teacher.
The writer tries to explain why something in the story doesn't work. Or, it may be even worse and the entire story is a problem.
She tries to explain the children's writing rules that all books for children should adhere to.
She hopes the client is reasonable and understands. She hopes the client allows her to do her job.
The writer becomes a negotiator of sorts.
It can become a back and forth. The writer resorts to the, "Well, what if we do it this way?"
Unfortunately, the client has on blinders and wants what she wants. So, it's back to, "Well, what if we do it this way instead?"
The writer just jumps in.
Knowing the story needs to be improved, the writer may just rewrite it into a publishable book.
This can be a gamble though.
It can be a waste of the writer's time and effort if the client doesn't like it. Then the writer has to go back to being a teacher and negotiator.
When the writer's hands are tied.
It can become an ethical dilemma for the writer when the client doesn't want to budge.
– Does the writer simply write the story the way the client wants even though she knows it's not professional?
While the writer is being paid to write for the client, this isn't always the best route to take. Although the writer's name won't be associated with the book, it's a story being worked on and should be as professional as can be.
But there are some instances when the client just wants the book for personal or family use. In these cases, it's the writer's decision. I will take on the project.
– Does she walk away from the project after it's started?
This is obviously a very individual decision, one that a professional writer doesn't take lightly.
While I haven't accepted projects because I knew they wouldn't be publishable worthy, I've never had to walk away from an ongoing project.
I'll teach and negotiate until the story is the way it should be. It takes more time and effort, but that's okay.
Every situation is unique and the writer will need to decide what's best.

Whether you need rewriting or ghostwriting, let me take a look at your story. Just send me an email at: kcioffiventrice@gmail.com. Please put "Children's Writing" in the Subject box.
Or, give me a call at 347—834—6700
Let's get your idea off the launch pad or your outline into a publishable story today!