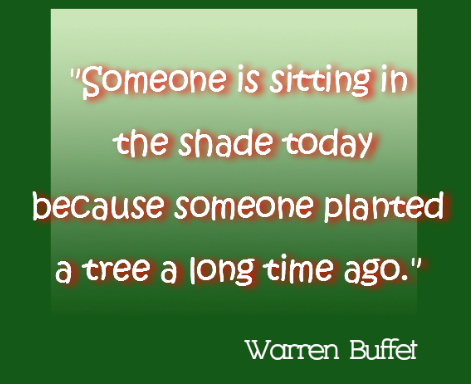 "Someone is sitting in the shade today because
someone planted a tree a long time ago."
This Warren Buffet quote inspires me. It's simple, yet so amazingly powerful.
A tiny seed can create something as massive as a tree, even a sequoia tree.
Think of the giant sequoia tree in California, USA. It averages around 26 feet in diameter, weighs around 4,189,000 lbs. and reaches heights of 275 feet. According to Wikipedia, "Record trees have been measured to be 311 feet in height and over 56 feet in diameter. The oldest known giant sequoia based on ring count is 3,500 years old."
The seed of the sequoia tree is 0.16–0.20 inches long, 0.039 inches broad, and 0.039 inches wide.
Hard to imagine, isn't it.
Something that tiny can produce something that enormous.
Well, this can easily relate to writing, to book marketing, to business . . . to just about everything in your work and life.
Small positive actionable steps, no matter how tiny, can create massive results.
You may think your writing and marketing efforts aren't moving you forward, but think of how long it takes that tiny seed to grow into a tree that gives shade.
What you sow today can have benefits for many tomorrows.
Time will pass whether you take action or not.
If you have an idea, take action now. Don't wait for tomorrow or until you have more time or until you have more money. Take action now. The benefits may turn out to be bigger than you could possibly imagine.
You may reap the benefits of your writing or book marketing or business efforts far into your future, so take that initial step.
Or, maybe it's expansion that you're thinking about, or a new strategy.
Keep in mind, though, that every living thing needs sun, water, and food to grow. So, when you take that step (plant that seed), be sure to give it the nurturing it needs to become what you believe it can be.
Plant that seed today!
This post was originally published at:
http://www.writersonthemove.com/2015/02/even-tiny-action-steps-can-produce-huge.html

Whether you need help with ghostwriting, rewriting, or coaching, let me take a look at your children's story. Just send me an email at: kcioffiventrice@gmail.com. Please put "Children's Writing" in the Subject box. Or, give me a call at 347—834—6700
Let's get your idea off the launch pad or your outline into a publishable and marketable story today!
Or, if you'd rather give it a shot and do-it-yourself, check out my book, HOW TO WRITE A CHILDREN'S FICTION BOOK.


Want to Become a Writer? Read!
Writer's Conferences Are Not All The Same