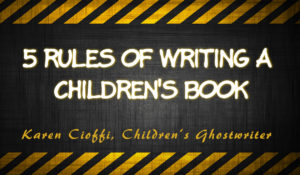 As a children's ghostwriter, I'm usually working on multiple children's book projects every day. This usually includes weekends.
I also have a family and work part time outside the home. So, my plate is
FULL.
Juggling all the time, I thought about what it takes to write, not just children's books, but other genres as well.
Here is my list of the 5 most important factors to writing a children's book, if you really, really want to be a children's author:
1. Make the time.
This would seem like a no-brainer, but you seriously need to prioritize your writing.
Using me as an example, there are just so many hours in the day. When you're juggling life, family, and multiple clients (currently 11), something has to give.
So, you need to ask yourself one important question:
Do you really, really want to be a children's author?
If you do:
– Can you get up an hour earlier to get some writing in?
– Can you stay up an hour later?
– Can you squeeze in some time when your baby is napping?
– Can you write during lunch, if you work outside the home?
– Can you shoot for just 2500 words per week?
– Can you spend time writing on the weekends?
– Can you use the time you'd be on social media on writing instead?
– Can you use the time you'd be watching TV on writing instead?
– How about during doctor visits, dental visits, etc.?
It's about prioritizing. It's about making your desires important enough that you're willing to struggle for them … to work for them.
I've been so busy the last few years that I've let my own writing go on the back burner. A possible solution to this is to think of myself as a children's book client who I need to, must, write for.
It's about making the time, no matter what you have to do.
2. Know what you're doing.
I've written about the importance of learning how to write before you jump into writing a children's book. But it's so important I'm putting it in this list.
While you should learn about writing no matter what genre you want to write in, with children's writing it's essential.
Learn proper grammar and punctuation for writing. It will make a world of difference in how your book appears.
Learn what's appropriate for young children. Don't write scenes that could cause a young reader to do something dangerous.
An example of this would be having a young protagonist playing in the street or sneaking out of the house at night.
You also need to learn about how a manuscript should be formatted?
I've seen self-published children's books with no line spaces between paragraphs.
Shame on the author for not doing the research to make the book at least look professional. And, more shame on the self-publishing service that formatted it for her.
3. Don't wait for the muse to come knocking.
As a professional writer, I know that the only way the muse will come for a visit is when you have your butt in the chair and are engaged in writing your story.
Every now and then I'll get a client who gives me a story idea or some notes on a story and I'll sit back and wonder how on earth will I turn what I have into a publishable story.
I don't sit back very long.
I start writing.
Once you start writing, it seems your brain takes over and the words appear. Those words turn into paragraphs and chapters.
I think everyone has a muse and s/he's sleeping in your brain until you focus on your story and actually write. Somehow that wakes the muse up.
4. You've got to be observant.
Again, this is true of any writing, but it's especially true for children's writing.
Children have their own language.
If you're able, watch children at play, in a discussion, playing sports, doing school work, eating, etc.
Pay attention to how they move, what they say, how they say it, they're facial expressions, their mannerisms, how they dress, if they're a bit older, around eight and up, how they wear their hair. Pay attention to pretty much everything.
You want to make your children's stories believable even if you're writing fantasy or science fiction. A way to help do this is to make the children in the story believable.
If you're not in a position to study children in real life, study them in movies and on TV.
5. Read in the genre you want to write.Reading in the genre you write gives you lots of information, especially if the books are recently published by real traditional publishers.
You'll learn:
– How to write dialogue
– How to format paragraphs and chapters
– How to structure sentences
– Appropriate story lines
– Story structure
– How to create believable characters
– How to structure picture books, allowing for illustrations to help tell the story
The list goes on and one.
Go to your local library and get 10-15 books. Once you're done with them get another 10-15 books. Keep going.
Another trick is to write the text in some of these books. It tricks the brain into writing 'good' books. Keep in mind this is just to study them.
One important thing to remember though, reading books and writing text doesn't take the place of learning how to write. These tools just supplemental writing tools.
So, if you've been thinking about writing a children's book, take these five rules into account and get started today.


Whether you need rewriting or ghostwriting, let me take a look at your story. Just send me an email at: kcioffiventrice@gmail.com. Please put "Children's Writing" in the Subject box. Or, give me a call at 347—834—6700
Let's get your idea off the launch pad or your outline into a publishable story today!