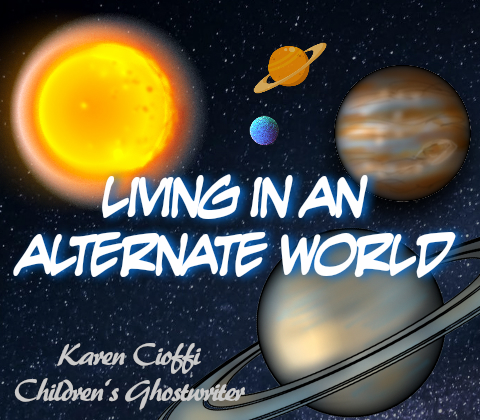 As a children's ghostwriter, one of the genres I write in is fantasy and that includes creating other worlds. So, when I read an email from a service I subscribe to, it hit home.
The owners said they felt that what's going on is like being in an alternate universe.
I agree. It's like living in an alternate world. It's beyond anything we've ever experienced.
It's like playing an unwilling game of Russian roulette.
This situation is having us live with a deadly invisible enemy that can be dwelling in anyone: a loved one, a friend, a neighbor, a nurse, a doctor, a rescuer … it can be dwelling in you.
Aside from self-quarantining, washing our hands and cleaning any packages we get, we have no control.
But, dwelling on these things isn't healthy and only adds to the stress of the situation.
SO, WHAT TO DO?
I subscribe to the Chopra Deepak and Oprah site and they sent a helpful email to deal with the uncertainty and stress of what's going on:
MINDSET SHIFT 1
Things are only going to get worse.
Chang it to: Whatever happens, I have the inner resources to make it through.
MINDSET SHIFT 2
Social distancing means loneliness and isolation.
Change it to: I take this opportunity to create new ways of connecting to the people I love.
MINDSET SHIFT 3
My mind won't stop racing with worry and uncertainty.
Change it to: There is peace inside me that's always accessible through meditation.
They provide a link to sign up for a free 21-day Hope in Uncertain Times mediation regimen. I signed up for it.
I'll try anything that may help me deal with this. Hopefully, this helps you too.
WHAT ELSE CAN WE DO?
Well, there's a movie, Groundhog Day with Bill Murray and Andie McDowell, that has the main character repeating the same day over and over and over.
At first, he's confused, angry, and frustrated about it, but when he finally gets used to it, he takes advantage of it. He learns to play the piano, he gets to know the people around him, especially his love interest in the movie. He takes an interest in things he would ordinarily never have.
So, another tool is to focus on what you can control.
I changed my diet and am trying to walk everyday (in my yard or around my house).
You can also write that book you've been thinking about. If you need a children's ghostwriter, I've slashed my prices.
You can work on the book you've already started.
You can work on marketing your book/s or services.
You can take a writing course or author platform marketing course. Some are free or very reasonable.
While it's a never-before situation and most of us need to stay home, don't let the worry and stress cripple you. Do what you can do – take back some control.


Let me take a look at your notes, outline, or draft. I'm a working children's ghostwriter and rewriter. I can turn your story into a book that you'll be proud to be author of.
Shoot me an email at: kcioffiventrice@gmail.com (please put Children's Ghostwriter in the Subject line). Or, you can give me a call at 834—347—6700
Let's get your story in publishable shape today!
Or, if you'd rather give it a shot and do-it-yourself, check out my book, FICTION WRITING FOR CHILDREN.
And, due to what's going on, I've slashed my prices. Email me or give me a call to discuss your project.


Storytelling vs. Writing a Story
6 Tips to What Makes a Good Story?
Ghostwriting Children's Books – 5 Ways to Know if You're Any Good