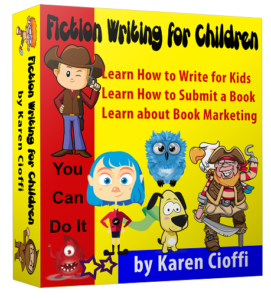 Fiction Writing for Children: Learn How to Write for Kids, Learn How to Submit a Book,
and Learn about Book Marketing
DIY – Learn to write your own children's book!
Is one of your dreams to write for children? Or, maybe you've already started, but are finding it more difficult than you thought.
Learning to write fiction for children takes work, as with any writing genre, the craft of writing is involved. But, with writing for children, there are rules and tricks unique to the genre. And, there are genres within genres.
When you think of writing for children, what do you think of?
Do you picture writing a bedtime story? Or, maybe a funny picture book? Or, maybe you think of the middle grade or young adult crowd.
What children are you envisioning reading your stories? Or are your books being read to young children, maybe babies?
Do you want to enlighten a child? Do you want to scare a child? Do you want to provide a child with a life lesson? Do you want to make a child laugh? Do you want to bring the child through a suspenseful mystery? Or do you want to take the child on a fantastic journey, broadening his imagination?
You need to think about these things when planning to write a book.
Often teachers, or parents, or grandparents, who are around children a lot, develop the desire to write for children. They might see how a child lights up when reading an engaging book. Or, they may want to spark the child's imagination and bring him or her on an amazing journey.
Whatever prompts you to want to write for children, the very first step is to decide on a genre to start with.
Being a writer, like being any kind of artist who creates something from nothing, is an amazing ability. It's almost like magic. And, you are in control. You decide what to create. The cap on your imagination is your only limit.
This 180 page ebook is actually a 'course in a book.' It's taken directly from my 8 week eCourse of the same title and gives you all the basics of writing fiction for children, finding a publisher or agent, and marketing books. (The e-course offers personal feedback and editing from me on the assignments.)
Fiction Writing for Children discusses everything related to writing fiction for children – it's a detailed 'writing, publishing, and book marketing' map from Point A to Point Z.

Before you read on, it's important you know I'm qualified to offer this kind of book.
I'm a traditionally published author and my middle-grade fantasy, Walking Through Walls,was honored with the Children's Literary Classics Silver Award. And, I have a '6 book' picture book series in contract.
Along with this, I'm a children's ghostwriter with over 70 books ghosted, over 25 rewritten, and lots and lots of books edited. In fact, I'm a lead editor with 4RV Publishing.
Be sure to check out my Testimonials Page. Please keep in mind that I don't list every testimonial I receive – I keep it at the most recent.
Now we can move on. 🙂

Okay, rather know what you're getting? Take a look at the Table of Contents.
Here is a breakdown of the 8 sections to Fiction Writing for Children:Section One: Choosing Your Target Audience
Introduction to Writing Children's Fiction
Choosing Your Target Audience
Writing Children's Books: Genre Differences
Writing Children's Books: Genres Within Genres
Finding Children's Story Ideas
Writing for Young Children: Ten Basic Rules
Critiques are Essential
Writing Conferences, Workshops, Books, Magazines, and Articles
Your Assignment
Section Two: Grabbing Your Reader's Attention
The Story Beginning Basics
Story Beginning Examples
Creating a Story: Two Different Formulas
Rewriting a Folktale
Your Assignment
Section Three: Building Your Character and Dialogue
Introduction
Dialogue
Action / Reactions
Characteristics
Description – Imagery
Backstory
Creating a Three Dimensional Character
Showing vs. Telling
Writing for Children – Finding Age Appropriate Words
Resources
Your Assignment
Section Four: Story Fundamentals and Strengthening the Middle
Introduction: Writing a Story
Story Fundamentals
Strengthening the Middle
Looking at Examples
Upping the Stakes Ups the Tension / Antagonist / Subplots
Balance in Writing: The Major Elements
What Makes a Good Story: Plot Driven or Character Driven?
Theme and Your Story
Resources
Your Assignment
Section Five: Bringing it Home – A Sound Ending
Introduction
Finding the Ending
Examining Endings
Recommended Reading
Being a Writer: Learn the Craft of Writing
Writing Goals, Detours, and Opportunity Costs
Your Assignment
Section Six: How to Revise and Edit, Research and Find a Publisher
Introduction to Lesson Six
Revisions and Editing
Ten Tips Checklist for Self-editing
Final Stages of Self-editing
Five Writing Exercises
Exercise Answers
A Guide to Hiring a Freelance Editor
The Manuscript's Finishing Touches
Researching Publishers and Submissions
A Bit About Self-Publishing: Before You Self-Publish
Aim for Writing Success and Persevere
Lesson Six Resources
Lesson Six Assignment
Section Seven: From Contract to Editor to Sales
Writing Books for Children: From Contract to Working with the Editor to Sales to a Writing Career
Create Visibility Before Getting Published
Book Marketing: Visibility and Platform Basics
10 Essential Steps to an Effective Website
3 Keywords Needed to Create an Effective Website
Section Eight: Lots of Writing and Marketing Bonus Resources
Helpful Online Sites
Writing Article Links
Writing Resources and Online Tools
Books and eBooks
Writing and Marketing Programs, eCourses, and Services
The End and a Bonus Article: Picture Book or Children's Magazine Article?
Quotes