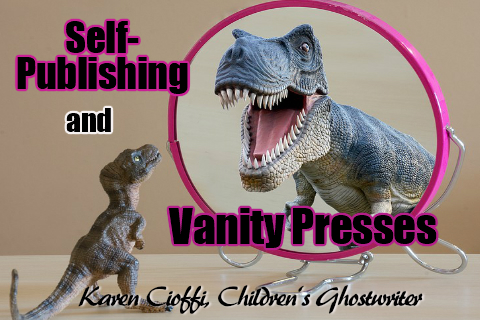 Sadly, there are still new authors who fall for the lure of self-publishing (vanity) services. And, while this article focuses on picture books, it's solid advice for authors of other genres.
As a ghostwriter, the majority of my clients hit the self-publishing road as do I think most of today's authors. It's just easier and much, much, quicker.
This being the case, I often see what happens when an author jumps in without researching carefully and getting recommendations.
And, while these self-publishing services won't label themselves as the old vanity presses, they are just that.
Vanity Publishers and Editing
Many self-publishing companies lure in the author with the "we'll do it all for you."
They promise a quality book and are sure to explain that the author needs her work edited along with designed and formatted for publishing. And, if they publish children's books, they have a staff of illustrators.
HOLD UP! STOP! P-L-E-A-S-E!
I see the poor quality of many of these vanity publishers.
For those who aren't sure what a vanity publisher is, it's self-publishing company that will take your manuscript and publish it – put it out into the world – for a fee.
You, as the author, pay for the entire publishing process. The service makes all their money from YOU.
If you don't sell a single book, they don't care because they made their money from YOU.
What's Wrong with This Scenario?
The first thing wrong with vanity publishers is they will take an already professionally edited and proofed manuscript and say it needs editing that you must pay for.
If their editors are qualified and you have the money to spend on additional editing, that's fine.
The PROBLEM is that most of these companies hire non-English speaking writers to edit and even ghostwrite work. And, those editors may not be qualified to edit children's manuscripts.
I've seen professionally edited manuscripts turned into a mess with these editors.
You might be asking, why would they do such a thing?
MONEY.
These companies are in business to make a profit. They need to hire workers who will work at very reasonable rates, regardless of whether they're qualified or not.
The SOLUTION?
Ask around for editing help. Get recommendations. Don't let a vanity press edit your manuscript.
Be part of a critique group. This will give you more than your own eyes on your story. A critique group can be a valuable help.
Then if you've done things right, all you should need the company for is to design and format the PDF of your manuscript that you received from your illustrator, and upload it into the printing or digital services, like Kindle, Createspace, Ingramspark, Smashwords, and so on.
Note: If you've written a picture book, the illustrator should include text layout within the illustrations. When s/he is done, you should be given a finished PDF.
Vanity Publishers and Illustrations
Just like the vanity press will convince you your manuscript needs editing, they'll offer illustrations for your picture book.
The PROBLEM is they hire less than qualified illustrators.
I've seen the results of this for the less expensive end ($1500 – $2500) and from the more expensive end ($10,000). This is for 24-28 illustrations.
In two particular experiences I had with clients (less expensive and expensive), the quality of both products was poor – from poor quality illustrations to proportion problems, to consistency problems, to text/illustration errors, and so on.
The Solution?
As with editing, if you have a picture book or any other book that needs illustrations, ask around. And, whichever illustrator you go with, ask for samples of their work.
Along with this, monitor the illustrations as you go along. Review them carefully. Get out a magnifying glass if you need to. It's your name going on the book.
If one page doesn't look right or you see a consistency error, tell the illustrator or vanity press that you want it done over.
Don't waste your money; get your money's worth. Expect professional work.
You're paying for the work done. Your finished product should make you proud to be the author of that book.
What Should Happen with These Self-Publishing Companies?
If you've written your book or had it ghostwritten and it's professionally edited and proofed, and you had illustrations with text layout done, you will give the self-publishing service the completed book (usually in PDF format which the illustrator will provide).
They will take the PDF and move onto the next step, (1) pre-press production: cover design, interior design, registrations (copyright, ISBN, etc.).
Then they'll move onto the (2) production/manufacturing phase: print coordination, pre-testing, and printing.
In the printing mode, they should submit the book to wholesalers and distributors to have your book available for sale in as many places as possible, including Baker and Taylor, Ingram, Amazon, Barnes and Noble, and so on.
Vanity Publishers and Marketing
As with the other services most of these companies offer, be careful.
These companies will tell you they'll get you and your book visibility, they'll market your book to various venues, they'll create a website, and they'll write the website copy for it.
The PROBLEM is most of these companies use less than professional workers and it reflects in the quality of the book and the marketing results.
In fact, hiring a vanity press to do your marketing is a waste of money.
I'll take this a little further.
I had a client who hired a marketing company (not a vanity press) to create her website and market her books.
The company outsourced the work to a company that wasn't experienced in author websites. They needed help with the project, so the client asked me to get involved. Because of all this, it took much longer than it should have.
The Solution?
Don't use a vanity press to market your book.
Ask around. Get recommendations.
If you're going to spend money on marketing, go with a company that is experienced in children's books and author websites.
You'll find more information about book publicity here:
https://www.publishersweekly.com/pw/by-topic/authors/pw-select/article/62849-book-publicity-101-hiring-a-professional-marketing-firm.html
You might also check out:
https://www.amarketingexpert.com/
Final Thoughts: The ISBN
When you hire a company to self-publish your book or if you upload it yourself to services like Createspace and Ingramspark, unless you have your own ISBN, they will provide you with one.
There's nothing wrong with this, but the company that provides the ISBN will be listed as the publisher of your book.
So, as an example, if you upload a book to Createspace and let them give you an ISBN, the book will state that the publisher is Createspace.
If you don't mind this then it's fine. But, if you don't want that label, then you'll need to buy your own ISBN from https://www.bowker.com/products/ISBN-US.html.
With your own IBSN you can make the publisher any name you want.
I made my publisher name, Writers on the Move.
You can make yours, YOUR NAME Publishing, or whatever you like.
If you do this, just be consistent with all your books. Be sure to have them published under the same name.
For those who aren't sure what an ISBN is, it's an acronym for International Standard Book Number. According to Business Dictionary, it's a "unique 10-charactrer number assigned to every non-serial publication sold in trade." Every printed book for sale must have an ISBN.
That's about it for now. Write a great book and do your research.
More information: https://www.ibpa-online.org/general/custom.asp?page=distributors


Whether you need rewriting or ghostwriting, let me take a look at your story. Just send me an email at: kcioffiventrice@gmail.com. Please put "Children's Writing" in the Subject box.
Or, give me a call at 347—834—6700
Let's get your book in publishable shape today!