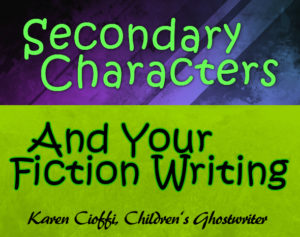 Before I get into whether secondary characters are important or not, what is a secondary character?
A secondary character is any character in the story aside from the protagonist (main character) and the antagonist (villain or force in opposition to the protagonist).
Just a side note here, an antagonist doesn't have to be a character. It can be an internal emotional or mental problem. Or, it can be an external force, such as a category 4 hurricane that the protagonist must prepare for or fight to survive.
It's important to mention also that there are two categories or 'subclasses' of secondary characters:
1. The supporting character.
A supporting character is a substantial part of your story. She or he is part of the protagonist's life and is usually there throughout the story helping move the story forward.
An example of this is Chen from "Walking Through Walls". Wang is the protagonist and Chen is his best friend. Wang bounces many of his problems off Chen and Chen advises him. Chen is the voice of reason and calm while Wang 'wants what he wants' and is impatient.
This friendship is an essential part of the story. It's part of what makes Wang choose one course of action over another in the end.
Sometimes supporting characters can have their own subplot. Using "Walking Through Walls" again, Chen was chosen by his village to become an Eternal apprentice. His village was invaded by neighboring warriors and his younger sister was abducted.
Supporting characters can be a catalyst for the direction the story takes.
Chen's backstory also plays a part in the direction Wang takes in his character arc.
Along with this, supporting characters are essential to a book series.
Think of just about any series on TV (old or new): The Big Bang Theory; Superman; NCIS; Castle; The X-Files; even the MythBusters. You expect to see the supporting cast. You'd be disappointed if you didn't.
2. The minor character.
A minor character is someone who may make a brief appearance in the story or is there in the background throughout. They give the story more authenticity and dimension. There will most likely be various minor characters throughout a book.
For example, in "Walking Through Walls" Wang and Chen are in an apprenticeship with other students. These students help create a dimensional world for the story. But, while they exist and are mentioned here and there, they aren't essential to the story.
A great example of a minor character is the taxi driver, Sylvester, from the 1947 movie, "The Bishop's Wife". Sylvester was only in a couple of scenes, but he was memorable while adding nothing more than humor to those particular scenes.
Summing it Up
Getting back to the title question of whether supporting characters are important to stories, they are. They are an essential part of every story.
Sources:
http://iml.jou.ufl.edu/projects/fall10/kane_amanda/character_types.htm
http://www.writersdigest.com/whats-new/how-to-write-effective-supporting-characters
http://www.writersdigest.com/whats-new/what-is-a-minor-character-understanding-the-minor-characters-role

Being a writer, like being any kind of artist who creates something from nothing, is an amazing ability. It's almost like magic. And, you are in control. You decide what to create. The only limit you have is the cap on your imagination.
Check out my 180 page ebook that gives you all the basics of WRITING FICTION FOR CHILDREN. It's newly revised and includes information on finding a publisher or agent, and marketing your books.