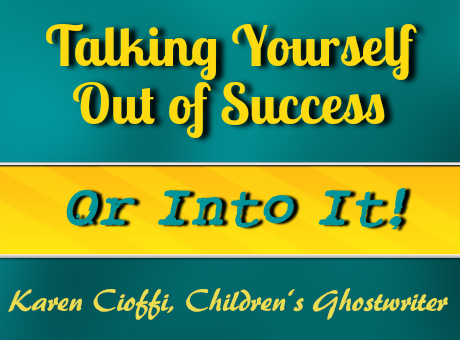 I had a client who, after the book was almost complete, began to talk herself out of the project.
Keep in mind this had nothing to do with money – the project was already paid for. The client simply began second-guessing herself.
She wondered will there be a market for her story.
She wondered if young readers would be interested in the story.
She wondered if she was just wasting her time.
I was able to convince her that 'nothing ventured, nothing gained.' I told her that you just never know – her book could influence children. Even if a book influences one child, that's one child you've reached.
Before this client, I don't remember ever having a client try to talk herself out of possible success. But then I came across an email from the Morning Nudge by Suzanne Lieurance.
After reading it, I realized that many people talk themselves out of success, myself included.
For years I tried to make money writing. I tried a number of different arenas, including business writing, academic writing, health writing, and children's writing. For a long while nothing seemed to click.
And, with the 'feast or famine' freelance writing business, it's easy to get discouraged and feel like packing it in.
Fortunately, I kept plugging away. I didn't talk myself out of success. I may have done other things to delay it, but now I have a successful children's ghostwriting business and even have the need to hire subcontractors.
The point is, you never know when or where you'll find success. You need to keep plugging away and stop talking yourself out of success.
In fact, do the opposite. Talk yourself into success!
Here's some of what author and writing coach Lieurance says about it:
If you have trouble taking action to reach your goals, ask yourself this question, "Am I talking myself out of success?"
I see people do this all the time.
They say they want something, but in the next breath they start justifying why they can't (or probably can't) do, have, or be the very thing they want.
Sound familiar?
We all do this from time to time and most of the time we don't even realize we're doing it.
So, write this question on an index card and place it near your computer (or on your kitchen counter) so you can see it throughout the day—Am I talking myself out of success?
Then, if you hesitate to take action toward your goals today, look at this question.
It will help you realize the only thing keeping you from success is that you keep talking yourself out of it.
And once you realize you're doing this, you can stop doing it.
To get your own daily nudge, subscribe to Suzanne Lieurance's Morning Nudge!


Whether you need help with ghostwriting or rewriting, let me take a look at your children's story. Just send me an email at: kcioffiventrice@gmail.com. Please put "Children's Writing" in the Subject box. Or, give me a call at 347—834—6700
Let's get your idea off the launch pad or your outline into a publishable story today!
Or, if you'd rather give it a shot and do-it-yourself, check out my book, HOW TO WRITE A CHILDREN'S FICTION BOOK.

MORE ON WRITING FOR CHILDREN
Children's Writing – Creating your Main Character
Secondary Characters – Are They Important?
Be a Successful Writer Even if You Don't Think You Have Enough Time