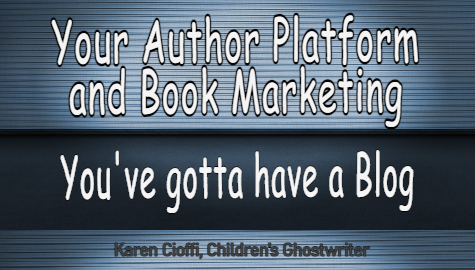 The time and effort you put into writing your book paid off – you got a publishing contract. And, now you're book will be out in a few months.
Or, maybe you self-published your book . . . or are just about to.
Whichever route you've taken, it's time to get your visibility and platform in place. And, the very first book marketing step to take is to create a website or blog.
Sorry, there's no way around this one – you must create a web presence. The first tool in your visibility toolbox is a website, and it should be created before your book is published. You can do this for free through sites such as WordPress.com or Blogger.com.
Website vs. blog.
Yes, there is a difference between the two. A blog is simply a weblog. You post information (blog posts) and they're saved in chronological order. The blog posts are archived for future reading purposes.
A website on the other hand is much more dynamic. It's designed to be a portal into your online business. It can have multiple webpages and it can include a blog (and it should).
So, depending on your purposes, you need to decide whether you want a blog or a website.
My suggestion is to go with a website that has a blog because you'll need the blogging feature to provide quality content on a regular basis. This will be your information funnel to bring visitors back to your site.
If you find the thought of having to create a website daunting, go for Blogger.com or a hosting service like Weeby. They're very user friendly and good for beginners. And they have a number of features much like a website.
Blog drawbacks.
There are some drawbacks to having just a blog – here are two of the biggies:
1. They may lack dynamic media files where you can upload PDFs. This allows you to upload your opt-in freebies for your subscriber list building. Or, to upload a PDF for sale as an ebook. So, if this is something you'll be doing (and it should be), you will have to use a website.
If you think you need the user-friendly ease of Blogger, you can create a free website in addition just for the purpose of uploading PDFs and linking to them from your Blogger site.
2. If your site is ONLY a blog, you won't be able to create a landing page; a sales page; a contact page; and about page; a book reviews page; you get the idea.
A blog is limiting.
Whichever it is.
Whichever you choose as your visibility site, be sure to carefully think about the domain name you use. Allow it to be easily searchable and relevant to the content you will be offering on the site.
It's often a good idea to have a least one site with 'your name' as the title of a website. This site will be your hub and have information about you as the author: a Media Page, an About You Page, and a page that lists all your books.
Simple is a Better Strategy
Simple sites work best.
Marketing expert Mike Volpe of Hubspot.com points out that it's more important to spend time, and money if necessary, on content rather than a flashy website design; simple works. In fact, simpler usually leads to a higher conversion rate. The conversion rate is the ratio of visitors who buy your book, product, or service.
Volpe also stresses that you should have control over your site. This means you should be able to manage it. You don't want to run to a web designer for every little change you want to make to your site, or to do something as simple as adding content.
To reinforce this 'simple is better strategy,' Google says that milliseconds count in regard to your page load time. If your page is slow to load, you'll get a poorer score with Google.
Tip: Should you decide you do need help to create a site, don't hire an expensive web designer. Look for someone who wants to establish themselves as a website creator, or someone who does it in his spare time, you will pay much less. And, try to make arrangements that will include the designer teach you how to manage your own site. This will make updates, changes, and posting much easier, and less expensive.
Make Your Site Optimized for the Search Engines
No matter what site you use, you'll need to take advantage of any and all of the optimization features it offers.
If you choose a WordPress site, go through the dashboard and sections carefully, and fill in how you want your site to work. There are also a number of plugins for WordPress that will help your site get noticed and indexed by the search engines.
If you're not sure how to do this, it would probably be worth the investment to hire someone to do basic search engine optimization (SEO) for your site. Or, you can take a workshop or class.
It's not uncommon for writers to need help with websites and SEO, it's impossible to be proficient at everything. Thankfully, there are those who know the ins and outs of optimizing websites, if needed take advantage of them.
WOW! Women on Writing has a great e-class that covers all this stuff:
BLOGGING MADE EASY IN JUST 4-WEEKS
Simple Steps to Building Your Online Platform and Authority (I'm the instructor)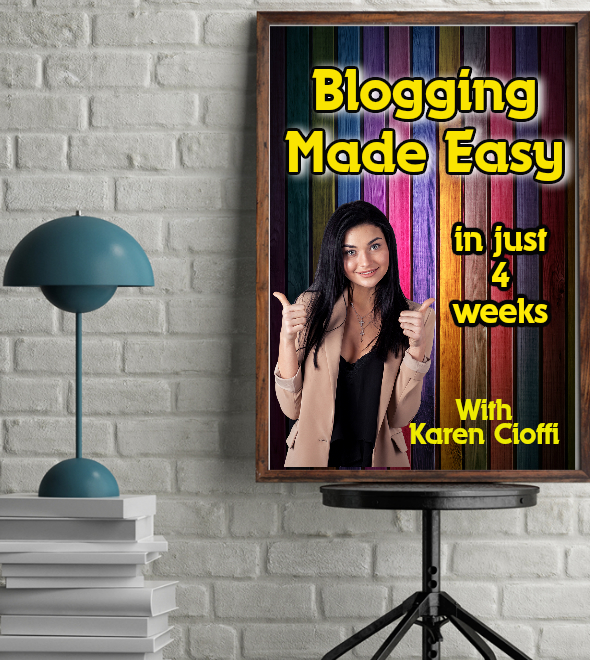 CLICK HERE for all the details!
MORE ON WRITING FOR CHILDREN
How Do You Build a Successful Writing Career? (3 Tips)
Had a Children's Book Ghostwritten? Now What?
Writing for Children – Character Believability and Conflict