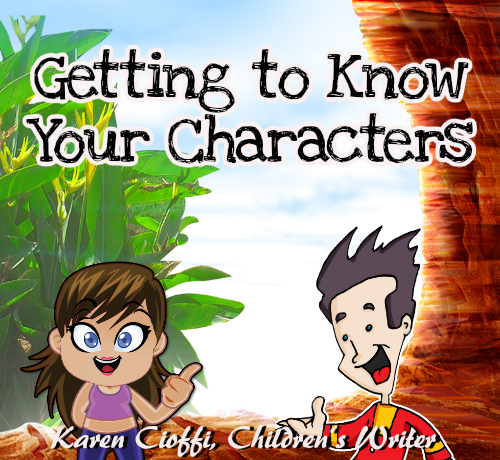 I recently read a post about writing for children. It focused on the story's characters.
Basically, the post advised to create and know your characters inside and out before beginning the story. In fact, it suggested that the author build the story around the characters once they were fully developed. While this is good advice, and many experienced authors recommend this technique, there are some authors who occasionally watch their characters unveil themselves right before their eyes.
The Seat of the Pants Writing Method
This is such an interesting method of writing. Your character introduces himself and gradually reveals bits and pieces, and blossoms as the story moves along.  I'm currently working on a middle grade science fiction manuscript that is using this style. I didn't intentionally start the story this way…it just happened.
You do need to be careful with this method though, you may lose track of all the bits and pieces that make up the character. So, a good way to keep track of those quirky telltale marks, expressions, behavior patterns, and physical features is to note them on a page or card as they become unveiled. You wouldn't want your character to have brown eyes in one chapter and blue eyes in another – unless of course, it's a science fiction or paranormal and part of the storyline.
Actually, in this particular story of mine I used the 'seat-of-the-pants' method of writing for the characters and the story. I had no idea what the story would be about until I began writing it. I'm about half finished with it, and I have no clue where it will go from the point it's at now, but it'll be interesting to find out.
It's true that many authors prefer the outlined method of writing, and I actually do also. Although, it seems once in a while a story and the characters can lead the author through an entire manuscript without the benefit of a structured outline. I find this fascinating . . . watching characters evolve and a story unfold. It's almost like magic…characters, a story, and even worlds appear from thin air. It is magic!
MORE ON WRITING FOR CHILDREN
Editing a Children's Book – 10 Tips Checklist for Authors
Submitting Your Manuscript – 8 Tips
Words and Children's Writing Pitfalls to Watch Out For
Let me take a look at it. I'm a working children's ghostwriter, rewriter, and coach. I can turn your story into a publishable and saleable book.
Send me an email at: kcioffiventrice@gmail.com (please put Children's Writing Help in the Subject line) or call me at 347—834—6700.

LIKE THIS POST? PLEASE SHARE!