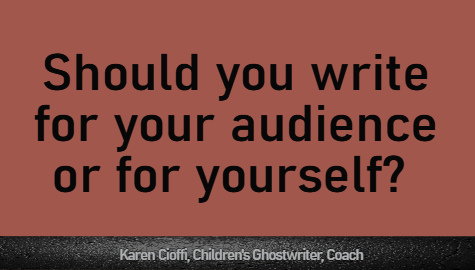 By Carolyn Howard-Johnson

Many years ago, I read an article/editorial from Jeff Rivers, the founder of  How to Write a Query Letter.com in Dan Poynter's newsletter. It was titled "What I Learned from Janet Evanovich: Write for your Audience."

It is hard to argue with experts like Jeff and Janet. But I do disagree-or at least mostly disagree. Certainly authors like Evanovich and James Patterson have done very well for themselves and for their readers by "Writing for Your Audience." I do a bit of acting and learned that new actors should learn to give to the director not what they he or she wants, but to give of themselves—to give what they feel is best to give. But life has thrown me mixed messages. When I was a retailer, I certainly learned that one couldn't "buy for oneself" when it came to selecting merchandise for my store. When I did, I very often brought whatever I bought home because my customers wouldn't buy it.

But back to writing!

That same balanced note is a good one for writers to follow, too. Certainly, they must keep their audience in mind. As an example, they must trust their audience to be readers. They, after all, have been reading their whole lives. So we authors don't want to insult them.

And certainly authors of nonfiction books should do some research before writing the same book someone else has written. There are probably many other aspects of "Write for your Audience" that I haven't covered here.

Still, there is another side of the coin and here it is:

When you write for yourself, your audience will follow. Do not mistake this for advice that writers go off willy-nilly with no training in craft, no awareness of rules (which we may then choose to break). But we must love what we do to be successful. Find your voice and your passion. Keep at it. Market it. And your audience will find you.

I'm an eternal optimist. I believe we can balance the two philosophies. But I also see some real danger for the author who denies his or her dream and considers only what he figures someone else wants of him.

ABOUT THE AUTHOR

~Carolyn Howard-Johnson is a multi award-winning writer of fiction and poetry as well as the author of the much-applauded HowToDoItFrugally series of books—one series for writers and one for retailers. Learn more at https://www.howtodoitfrugally.com.  And learn her secrets for marketing what you love to write in The Frugal Book Promoter, 3rd Edition.

This article was published before here at: https://www.writersonthemove.com/2011/01/write-for-your-audience-vs-write-for.html
-----
Keep in mind that when writing for children, there are certain guidelines to adhere to. But, you can still write for yourself. You can choose a topic that's dear to your heart and one that you want to shine some light on for children. You will need to keep your topic and content age appropriate. 


I'm a working children's ghostwriter, rewriter, and coach. I can help turn your story into a book you'll be proud to be author of, one that's publishable and marketable.

You can contact me at: kcioffiventrice@gmail.com. Or, you can give me a call at 834---347---6700

Or, if you'd rather do-it-yourself, check out my book, How to Write a Children's Fiction Book.
LIKE THIS POST? 
PLEASE SHARE!