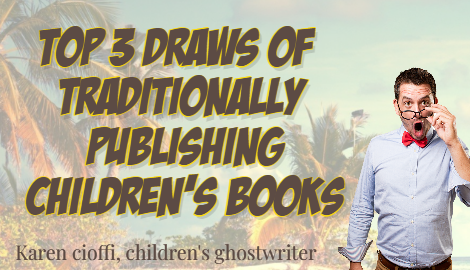 While most of my children's ghostwriting clients go the self-publishing route, about a quarter of them (maybe a little less) take on traditional publishing.
Why go traditional? What's the draw?
The first reason is budget.
When dealing with children's books, many authors don't have the budget to hire an illustrator.
For a standard picture book, there are usually 12-14 interior illustrations. That's the bare minimum. If the author wants an illustration on every page, then it's double the amount.
If the author has a chapter book, then she's looking at illustration for each chapter, at the very least. Thinking on the low end, if the author has 5,000 words, that should be divided into around ten chapters of about 500 words each. So that's ten interior illustrations.
Even middle-grade books can use interior illustrations here and there, possibly for each chapter.
Granted, you can have different types of interior illustrations, such as half-pages and sketches, but it's still an expense.
Then there are the front and back covers.
Using the illustrators I work with, the pricing ranges from $80 to $180 per interior illustration and $200+ for the front cover. Pricing is usually less for the back cover. And these illustrators are very reasonable.
I've had clients who have paid $10,000 and more for illustrations.
So, it's easy to see that having to pay for illustrations can get expensive.
On the flip side, the children's author doesn't need to pay for illustrations with traditional publishing. The publishing house uses its own illustrators and covers the expense.
This is a huge deal and is a major draw of traditional publishing.
The second draw is the prestige and validation associated with traditional publishing.
While I'm self-published and traditionally published, let's face it, they don't hold the same weight. That's just the way it is.
The primary reason for this is that a lot of self-published books aren't professional.
With the ease of self-publishing, anyone can slap a book together without knowing how to write and put it up for sale.
These authors make it bad for authors who take the time to learn the craft of writing and create a professional book.
Although, the old stigma associated with self-publishing is easing a bit.
The third draw is it's all done for you.
Most authors, especially the newbies, don't know how to go about self-publishing. Having a publishing company do everything for no cost is extremely alluring.
Just keep in mind the legwork and patience involved:
A. The author needs to create a query and synopsis of the book
B. The author needs research publishers and agents that deal with the particular genre
C. The author needs to submit the manuscript
D. The author needs to wait for a bite, which is not guaranteed
E. An accepted manuscript can take 18-24 months before it's actually published.
But aside from the work and time involved, if the author gets a book contract, she has a professional group behind her. She can rest assured she'll have a professional book.
So, these are the top three reasons why some children's authors prefer going the traditional path.

Whether you need help with ghostwriting, rewriting, or coaching, let me take a look at your children's story. Just email at: kcioffiventrice@gmail.com. Please put "Children's Writing" in the Subject box. Or, give me a call at 347—834—6700.
Let's get your idea off the launch pad or your outline into a publishable and marketable story today!
Or, if you'd rather give it a shot and do-it-yourself, check out my book, HOW TO WRITE A CHILDREN'S FICTION BOOK.
MORE ON WRITING FOR CHILDREN
What's Stopping You from Becoming a Children's Author
Submitting to an Editor or Literary Agents? 6 Things to Watch For
LIKE THIS POST? PLEASE SHARE!