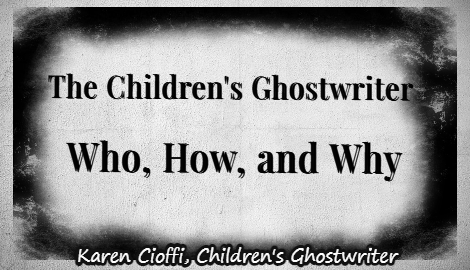 A while ago, I had a conversation with a fellow attendee at a children picture book workshop. When I mentioned I'm a children's ghostwriter she was curious how I got started in the field.
I couldn't answer her. I couldn't remember how it actually came about.
Thinking back, though, I did start out editing for authors. Many of the manuscripts I was given was in such poor condition, I ended up rewriting the stories, some almost to the point of ghostwriting.
It just seemed to evolve from there.
In case you're wondering, a ghostwriter is a writer who will take your idea, notes, outline, or other information and write a story for you. And, ghostwriters write in every genre you can think of: fiction, nonfiction, memoirs, screenplays, video, TV scripts, technical, medical, speeches, music, and so on.
The ghostwriter offers a nondisclosure agreement and freelance agreement. And, she usually doesn't get any recognition for her work. Although, there are instances where the ghostwriter and client agree to other terms.
Two other terms that may arise between a ghostwriter and client:
The ghostwriter has her name on the book as co-author for a reduced fee.
The ghostwriter gets a percentage of the sales, again for a reduced fee.
In my opinion, it's never a good idea to accept either of these terms. Well, that is unless you absolutely know the book will be successful or the author is famous.
Who hires a children's ghostwriter?
The answer to this question always amazes me.
There are people from around the world who want to be author of a children's book but don't have the skills or time to do it themselves.
I've worked with well over 300 clients from lots of different countries, including Italy, the United Kingdom, Scotland, Norway, Saipan, Jordon, Dubai, and all over the United States, even Hawaii.
It seems most often it's parents or grandparents who develop a desire to be an author of a children's book. Usually, they want to have a story created about their children or grandchildren, or they want to impart some wisdom to children.
I've worked with child therapists and child psychologists who use children's books as a tool to broaden their ability to help children.
I've also worked with teachers and principals who want to teach children beyond the boundaries of their school or classroom.
And, then there are the business people who see a children's book as part of a marketing strategy for the industry they're in or as an addition to a product they already have.
In addition to this, I've worked with clients who wanted a series of children's books to use as the foundation of a new business.
I've even ghostwritten for a dentist.
What skills does a children's ghostwriter need?
Being a skilled writer.
While a number of authors who self-publish have the "I want it now" syndrome and 'wing' their books into publication, you can't do this when someone is paying you to write a professional story.
Aside from knowing how to write, it's essential to know the specific rules of writing for children. The ghostwriter needs to know what the current industry guidelines are.
Knowing how to listen.
Listening carefully to the client is a must. The ghostwriter needs to take simple things like an idea given over the phone or in an email, notes, or a basic outline and create an engaging and publishable book.
Along with this, the writer needs to ensure the book reflects the client's voice and vision. Listening is an essential factor in doing this.
Being patient.
It may seem unusual, but a ghostwriter needs to be patient.
I've had a couple of clients who approved a final story, then came back in a week or two and decided they wanted revisions.
I had a middle-grade client who kept putting multiple POVs within one chapter. I'd edit it, and he'd change it.
I had another client who pretty much kept ignoring my advice as I rewrote his young adult novel.
It's important to be patient and tactful while explaining over and over why something doesn't work. The reason to keep after the client is that it's the ghostwriter's job to make sure the final product is professional.
Being organized and focused.
I usually handle more than one project at a time. At one point, I worked on eight projects simultaneously.
If you're dealing with multiple clients, you need to be able to switch stories and sometimes genres without losing a beat. This takes focus… and flexibility while handling all he emails from clients.
For organization, I use a Word and excel file for each client. I keep track of every email and every phone call.
Any time you're dealing with writing clients, you need to keep things moving smoothly and keep your clients satisfied and in-the-loop throughout each project.
Having the ability to follow through, and be on time.
As with any writing project, you've got to complete it and come in on time.
In the terms of the agreement, there is a time period for the project to be complete. The ghostwriter must meet the deadline.
Above all else, a ghostwriter wants to make sure her client is thrilled with the final product.
What's the motivation?
I can't speak for all children's ghostwriters, but for me, I love writing for children. It's satisfying to teach children, engage them, amaze them, bring them on adventures, and stretch their imaginations.
And, I love helping others fulfill a desire they have to see their children's story ideas come to life.

Whether you need help with ghostwriting, rewriting, or coaching, let me take a look at your children's story. Just send me an email at: kcioffiventrice@gmail.com. Please put "Children's Writing" in the Subject box. Or, give me a call at 347—834—6700.
Let's get your idea off the launch pad or your outline into a publishable and marketable story today!
Or, if you'd rather give it a shot and do-it-yourself, check out my book, HOW TO WRITE A CHILDREN'S FICTION BOOK.

Children's Books and Back Matter
Creating Story Characters – Avoid These Common Mistakes
LIKE THIS POST? PLEASE SHARE!