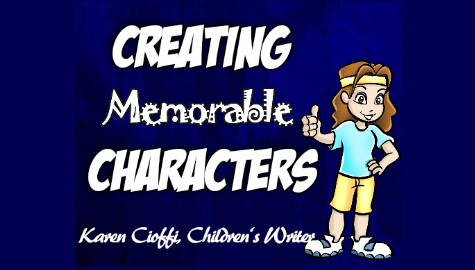 From the simplest clues, a character can take shape.
Maybe you first reference the character as the boy or the tall girl. Even with those simple words, you've given that character life.
Before that, there wasn't a boy or a tall girl.
But along with things (characteristics) you should include, there are a number of things you should avoid when writing your characters.
Don't over-dump physical details.
An example of this might be: Raul was tall and thin with green eyes and dark brown hair, and a swimmer's body.
While you won't be able to get that all in within one scene, to convey his height you might write:
When the other boys couldn't reach the shelf, Raul got the paper airplane down. "Good thing you're tall," said Shawn.
To convey his hair color:
From the back, Mrs. Stenzer couldn't tell which boy was Raul. They all had dark brown hair and were medium height.
To convey his body type:
Raul was the only new kid on the swim team to already have a swimmer's body.
If you need or want to let the reader know the physical characteristics of the characters in your story, simply work that information in. Without dumping it.
Avoid being too vague.
While you don't need to convey every detail of a character, you can give enough to give the reader an idea of the character's physical attributes. The reader can then fill in the details.
Two examples of this might be:
His neat cut in the back and sides was in contrast to the long hair in front that fell below his brows.
He stretched his swimmer's body then raced into the ocean.
Include the character's environment.
A character may live in a low-income building, possibly a Section 8 apartment. Another may live in the back woods of Appalachian Mountains. All this will give insight into the character.
Or maybe the character lives in a penthouse on the Upper East Side of Manhattan. Or, possibly a character lives in Saipan.
The character's environment can include his past environment also.
A book I'm writing now has one of the characters going from a rich lifestyle to a poor one. This could tell a lot about why the character may behave in a certain way or why she's depressed.
Another scenario may be that the protagonist was on a swimming team since he was seven. This will tell a lot about this teen's character. It takes discipline and drive to be a competitive swimmer. It will also have a large factor on his physical appearance.
Include the character's close relationships or past relationships.
How your character engages with the different people in his family, friends, and toward new people will show different facets of his character.
The friends he hangs around with will also show his tendencies and character. The expression 'birds of a feather flock together' can play a factor in the character's character.
Include appearance, clothes, and even sundry items.
How you describe your character's appearance can tell a lot about that character.
Are his clothes neat and ironed, with shirt tucked inside his pants? Does he use starch? Or is he unkempt? Are his clothes wrinkled with shirt partially tucked in or not tucked in at all?
What about her hair. Is it a mess? Does it look dirty? Or is it well groomed?
What about his hair? Is it short? Is it long? Is it well kept?
What does she keep in her pockets or purse? What does he keep in his backpack? Is there always a pack of gum? Is there breath mints? Do they always have a candy bar on them? What about a comb?
The list can go on and on. And each little item give another clue as to the character's character.
These are just five tips on how to use description to enhance your readers' view of your characters. There are others, but this should give you a good foundation on creating engaging characters.
WANT TO BE A CHILDREN'S WRITER?
Being a writer, like being any kind of artist who creates something from nothing, is an amazing ability. It's almost like magic. And, you are in control. You decide what to create. The only limit you have is the cap on your imagination.
Check out my 200+ page ebook (or paperback) that gives you all the basics of HOW TO WRITE A CHILDREN'S FICTION BOOK. It's newly revised and includes information on finding a publisher or agent and marketing your books.
MORE ON WRITING FOR CHILDREN
Outlines and Character Details – Tips on Writing a Middle Grade Story
Writing Dialogue? Try These 5 Top Tips
Creating Your Main Character – Hit a Home Run