Twist endings in young children's book can give a great story a blast off ending. One that kids will want to read over and over.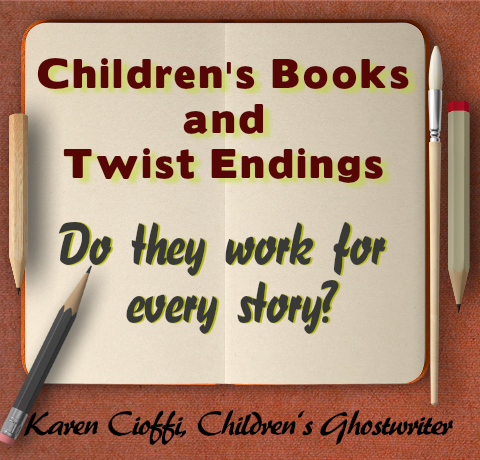 Twist endings in young children's book can give a great story a blast off ending. One that kids will want to read over and over.
This type of ending is something the reader isn't expecting – it's a surprise.
A great example of this is Caps for Sale by Esphyr Slobodkina.
A peddler of hats decides to take a nap. While sleeping, monkeys take his hats.
When he wakes, the monkeys are up in a tree, wearing the hats.
The peddler goes through a number of attempts to get his hats back, he yells, he wildly waves his hands in the air, he stomps his feet, and so on. But with each attempt, the monkeys simply mimic the peddler.
They yell, they wave their hands, they stomp their feet.
Finally, in defeat, the peddler throws his own hat down. The monkeys each throw their hat down to the ground. The peddler happily picks them up and goes on his way.
Walking Through Walls is another example of a twist ending for the simple middle grade group.
The protagonist wants what he wants and that's to become rich and powerful … and at any expense.
As he learns what he needs to accomplish this and is about to steal to begin his path to power, he becomes aware that subtle, insignificant things throughout the story are very significant. And, that throughout his journey, he was never alone. He also comes to realize he is meant for great things, through honorable means.
There are lots of other great children's books with twist endings, like Finders Keepers by Keiko Kasza and Baghead by Jarrett J. Krosoczka that will help show you how it's done.
But, do all children's books lend themselves to surprise endings?
I don't think so.
Some stories seem to have too specific a journey. Throwing in a twist ending in these stories feels like driving on a straight road for hours and hours then suddenly there's an unexpected sharp turn that comes to a dead end.
It's jarring. It throws the reader off.
Another thing about twist endings is they need to be in line with the story.
I work with a number of child psychologists and therapists. These stories, while engaging and even fun, have specific subtle messages and very specific outcomes.
Does this type of story lend itself to a surprise ending?
Another factor when using twist endings is it should be a feasible twist that makes sense for the story, even though they didn't see it coming. It should be something that the reader will say, "Oh, yeah. I didn't think of that."
An example of this is a young child is learning to play classical guitar. He's the type of kid who takes things seriously and has to do it perfectly.
He happens to find a guitar and starts playing it, but no matter what note or chord he strums, the guitar plays boogie woogie, hip hop, calypso, of other styles that make the you want to dance.
At first the boy is angry and feels the need to correct it, but then he gets into the music and loves it.
He realizes it's freeing and fun.
Would throwing in a twist ending that his father or mother orchestrated the magic guitar work?
I don't think so. It takes away from the protagonist's journey. It takes away from him being the hero. It takes away from his journey to enlightenment.
I'd love to know your thoughts on twist endings in children's stories. Do all stories lend themselves to them?


Whether you need editing, rewriting, or ghostwriting, let me take a look at your children's story. Just send me an email at: kcioffiventrice@gmail.com. Please put "Children's Writing" in the Subject box. Or, give me a call at 347—834—6700
Let's get your idea off the launch pad or your outline into a publishable story today!


Submitting Your Ghostwritten Book to a Children's Publisher

Writing Tips from the Book, Story Genius