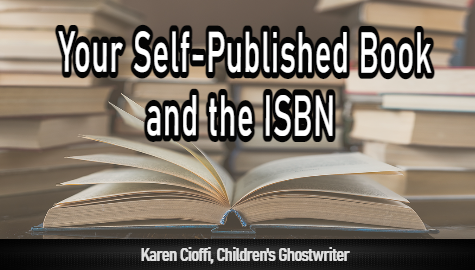 Being a children's ghostwriter, I get a lot of clients who self-publish. Many of them use companies that will do the work for them, actually format and publish and distribute the book, like Amazon does.
If you self-publish a physical book or ebook and intend to sell it online, in bookstores, or pretty much anywhere else, you will need an ISBN.
What Does ISBN Stand for?
It stands for International Standard Book Number and every book must have one to be sold.
According to ISBN.org,
The purpose of the ISBN is to establish and identify one title or edition of a title from one specific publisher and is unique to that edition, allowing for more efficient marketing of products by booksellers, libraries, universities, wholesalers and distributors.

Each format or binding must have a separate ISBN (i.e. hardcover, paperbound, VHS video, laserdisc, e-book format, etc). A new ISBN is required for a revised edition. Once assigned, an ISBN can never be reused. An ISBN is printed on the lower portion of the back cover of a book above the bar code and on the copyright page.
The ISBN's purpose is to create a unique identity for your book so you can sell it. This is essential for book dealers, libraries, and other sources to be able to find and identify specific books.
Where Do You Get an ISBN?
If you're using a self-publishing service, like CreateSpace, DogEarPublishing.net, BookBaby.com, PublishingPush.com, Smashwords, Lulu, or similar entities, you don't need to get your own ISBN, the service will give you one for FREE.
This may seem like a great deal. Who doesn't like free?
BUT …
If you use a free ISBN from a self-publishing service, they'll be listed as the Publisher of your book.
In addition to this, according to Self-Publishing School, there's another problem, "Most of the time, you can only use those free ISBNs with the channels those companies distribute through." (1)
Because of these reasons, I strongly advice my clients to get their own ISBN.
Where Can You Get Your Own ISBN?
If you've thought about it and decided you don't want the self-publishing company to be listed as the publisher of your book, you can get an ISBN through Bowker at https://www.myidentifiers.com/
One number costs $125, but you can get 10 for $295 (these fees are as of the last time I researched them).
Unless you intend to be a one-book-wonder with only one version of your book, you might want to go for the 10 pack.
Sometimes you can buy an ISBN from the publishing company you're using. At the time this article was written, you could get one from CreateSpace for $99.
What Name Should You Choose for Your Publishing Company
You can choose whatever publishing name you want to use. I made mine Writers on The Move.
You might use your name or a family member's name. It can literally be anything.
For a lot more on the ISBN, check out:
(1) https://self-publishingschool.com/isbn/
https://www.thebookdesigner.com/2010/03/isbn-for-self-publishers-answers-to-20-of-your-questions/


Whether you need rewriting or ghostwriting, let me take a look at your story. Just send me an email at: kcioffiventrice@gmail.com. Please put "Children's Writing" in the Subject box. Or, give me a call at 347—834—6700
Let's get your idea off the launch pad or your outline into a publishable story today!


The Pros and Cons of Publishing with a Small Publisher
Writing a Fiction Story – Walking Through Walls Backstory
Children's Writing and Information Dump
LIKE THIS POST? PLEASE SHARE!