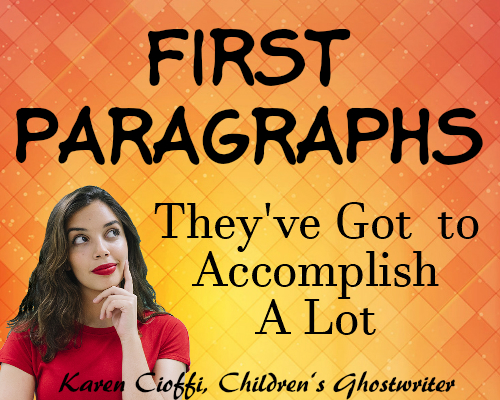 Contributed by Suzanne Lieurance
What's perhaps the most important part of anything you write?
The opening paragraph, of course.
Yet many times, that's the part writers have the most trouble with.
They end up with an opening paragraph that is too long, too
unfocused, and doesn't really lead to what happens next.
With that in mind, here are some tips for writing a winning opening paragraph.
1. KEEP IT SHORT.
If your opening paragraph is clear and to the point, you shouldn't need more than a sentence or two.
Also, keep the sentences in your opening paragraph short and easy to read.
2. MAKE IT ACTIVE.
Passive sentences can slow down your article or chapter from the
start.
Avoid this by using active sentences—subject, verb, object, for example—for the most part.
3. REWRITE IT LATER.
After you've written your article or chapter, go back and look at your opening paragraph again.
Does it really prepare the reader for what comes next?
Is it short?
Is it active?
If not, simply rewrite the paragraph.
Take time to carefully craft your opening paragraphs and you'll have stronger, more focused articles and chapters as a result.
Try it!
For more writing tips and resources delivered to your e-mailbox every weekday morning, get your free subscription to The Morning Nudge from Suzanne Lieurance, the Working Writer's Coach.
WANT TO BE A CHILDREN'S WRITER?
Being a writer, like being any kind of artist who creates something from nothing, is an amazing ability. It's almost like magic. And, you are in control. You decide what to create. The only limit you have is the cap on your imagination.
Check out this 180 page ebook (or paperback) that gives you all the basics of WRITING FICTION FOR CHILDREN. It's newly revised and includes information on finding a publisher or agent, and marketing your books.