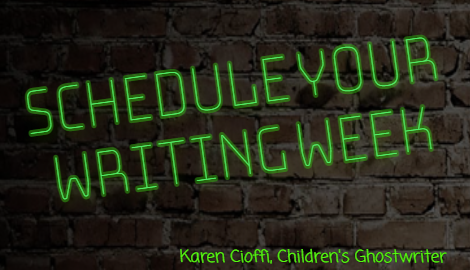 Contributed by Team Member Suzanne Lieurance
As you're planning your work week, be sure to do the following if you wish to have the most productive week possible:
1. List your 3 major writing/career goals at the top of this week's marketing plan – that way, you can check each of the actions you plan to take this week to make sure they are *all* in alignment with one or more of your major goals.
If you've planned on taking action that isn't in alignment with one of those goals, what is the purpose?
Take it off the list since it won't move you closer to one or more of your goals.
2. Don't overload this week's plan/schedule with too many action steps.
You don't even need to take actions toward all 3 goals every single week.
In fact, it might be better to take action toward only 1 or 2 of your 3 major goals in any one week.
Remember, you want to build your writing career, but you want to enjoy your life, too.
Don't overload your writing schedule so you have no time to just relax and enjoy yourself.
3. Instead of simply making a list of the actions you plan to take this week, get a calendar or make up a calendar for the week.
Make your plan an actual schedule, with the specific dates (and even times, if you like) listed for each action you plan to take this week.
You'll be more productive if you do this rather than just listing your action steps because you won't have to waste any time during the week wondering which action step to take.
You'll know because all you need to do is look at your schedule, then take the action that is scheduled for that date and time.
Now, get your weekly marketing plan/schedule created – or modify it if you need to according to the steps, above – then all you need to do this week is follow your plan.
Try it!
For more writing tips and resources delivered to your e-mailbox every weekday morning, get your free subscription to The Morning Nudge from Suzanne Lieurance, the Working Writer's Coach.


The Book Summary – Five Must-Know Components
Finding Age Appropriate Words When Writing For Children
Ingredients for a Perfect Picture Book