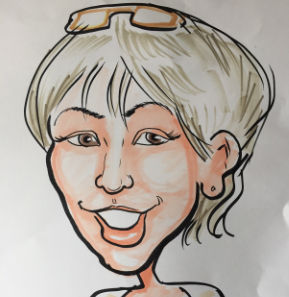 Hi, there! Welcome to my children's freelance writing and ghostwriting site. Since, I know you're on this page to learn a bit about me, let me jump right in.
I recently moved to Long Island, after living in NYC most of my life. I hope to one day move onto the main land of the USA! That's another story though. I'm a mother to two girls (they're adults, but they'll always be my girls), grandmother to two rough and tumble boys (nine and 11) and a year-and-a-half baby boy, and wife. Oh, and grandmother to a hyper-crazy, bronco-jumping bernedoodle. 🙂
Okay, back to more pertinent information about me.
I'm the founder and editor-in-chief of Writers on the Move, a marketing group of writers and authors, and my blog Karen Cioffi Writing and Marketing was honored as Writer's Digest Website of the Week, June 25, 2012.
Along with this honor, Brian A. Klems, online editor for Writer's Digest, added a wonderful comment: "This site from Karen Cioffi should stand as a model for other freelance writers."
As a professional writer and author, I have years of experience ghostwriting (90+ books), rewriting (45+ books), and editing children's books (lots and lots and lots). I'm also a lead editor with 4RV Publishing and former staff writer for ReadingVine (an online reading comprehension learning center).
I have two children's books published:
Walking Through Walls (a children's middle-grade fantasy adventure, set in 16th century China – Children's Literary Classics 2012 Silver Award)
Day's End Lullaby (children's rhyming bedtime story, with original lullaby and sheet music)
And, there's more to come. I'll list the titles as they're published.
I've helped writers get contracts, self-publish, and one client has gotten interest in a sponsorship with MADD for a children's picture book I've rewritten.
From my fiction writing experience, I now offer a DIY book to help wannabe children's writers get going:
Fiction Writing for Children: Learn How to Write for Children, Learn How to Submit a Book, Learn about Book Marketing
In regard to my memberships, they include:
Society of Children's Book Writers and Illustrators
JacketFlap
Association of Ghostwriters
National Association of Independent Writers and Editors
Professional Writers Alliance
Freelancers Union
AuthorsDen
If you need a children's writer, you're in the right place.

As my writing services is growing, I've decided to add two top writers to collaborate with thus creating one powerful team. I will be a writing part of all projects, if not the sole writer, and I will be in control of all projects. The writing excellence expected and delivered these past, almost 10 years is still guaranteed. And, I will still be the one you communicate with. The only difference is I won't have to turn away clients.
To see who's on board click: Children's Ghostwriting Team.

Email me at kcioffiventrice – @- gmail.com
(Please put "Children's Writing" in the Subject Box.)
In a rush? You can call me at 347—834—6700.

Found a Mistake?
Much as I'd love to be perfect, mistakes are going to happen. If or when you find a mistake anywhere on this website, please drop me an email or leave a comment and let me know. I'll correct it straightaway and be very grateful you took the time to give me a heads up.
Bad Links?
If you happen to find a bad link, please let me know also and I'll fix it right away.
Thanks a bunch!