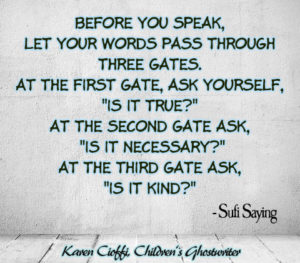 In a world littered with half-truths and lies, these are words to live by in your words
and in your writing:
Before you speak, let your words pass through three gates.
At the first gate, ask yourself, "Is it true?'
At the second gate, ask, "Is it necessary?"
At the third gate, ask, "Is it kind?"
~ Sufi Saying
NEED HELP WITH YOUR STORY?
Whether you need rewriting or ghostwriting, let me take a look at your story. Just send me an email at: kcioffiventrice@gmail.com. Please put "Children's Writing" in the Subject box.
Or, give me a call at 347—834—6700
Let's get your idea off the launch pad or your outline into a publishable story today!