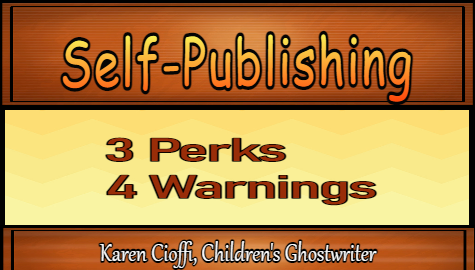 It seems the majority of people are self-publishing. With the limited traditional publishing opportunities, it only makes sense.
In addition to the difficulty in getting a traditional contract there are at least three perks to going Indie.
1. You are in complete control.
2. Getting your book published and available for sales will take a fraction of the time it will take a traditional publisher to get it out into the world.
3. You'll make a lot more per book sale than through the traditional route.
All seems good, right?
Well, it can be. But, while self-publishing brings the brass ring within the reach of just about everyone, there are some things to watch out for.
Four things to watch out for when self-publishing:
1. You are in complete control.
While this is also a perk, it can be a pitfall. You don't have the luxury of a publishing house editors, book designers, and illustrators. This means it's all up to you.
Do you know what's involved in producing a quality book?
If not, do your research.
You might want to start out with learning how to write if you're not already a writer. Read books, take classes, do whatever you need to in order to write right. Keep in mind that this includes learning about revisions, editing, and proofing.
While self-publishing is gaining ground by leaps and bounds, there are still those books that are poorly written and published that weigh the arena down.
While writing a quality book is paramount, the book's design and cover are also crucial.
Some questions to consider might be:
– Do you know what the front matter is?
– Are you qualified to create your own cover?
– What about the back cover design and copy?
– Do you know about interior layout design?
– Do you know how to properly format your book for publishing?
– Do you know how to upload your book to the service that will print it?
– Do you know you need to write a synopsis and description for your book?
– What about effective keywords and categories for your book?
There are more elements involved, but this will get you started.
If it seems overwhelming or is too time consuming get outside help. I recently hired someone on Fiverr to format and upload my book. I debated between publishing with CreateSpace and IngramSpark and ended up going with CreateSpace.
There are plenty of services and freelancers available to help you get your book published.
2. It's most often not a slam-dunk.
I've had a couple of clients approach me saying they want a book that Disney will want to turn into a movie. I laugh to myself because so do I. After I find the humor in it, I tell those clients that there are no guarantees in books.
You must have realistic expectations when self-publishing. The market is flooded with books. It's true that some books take off, but this is not the norm. Again, be realistic.
The best thing you can do is create a book you can be proud of and learn how to market it. The first part of book marketing is creating an author platform.
For more on this, read my article: What is an Author Platform?
3. You don't have a hook.
With so many books available and more and more coming on the market each day, you need to find your hook. Simply writing a good book may not be enough. You need to let the reader know why they should buy your book. What makes your book different.
"Sensational writing, words that jump from a page, a heart stopping plot and real recipes from your grandmother in a village in Sardinia, where many people live to be 100, are all potentially unique aspects of a book, which will help you find readers." (1)
If you don't think your book has anything unique, take a closer look. Think of an accident witnessed by 10 people. Each one will have a different account of what happened. Even if only somewhat different, there will be differences.
Find the unique element in your book.
4. You're not familiar with book marketing.
Even if you're traditionally published, you MUST promote your books.
Book marketing begins with your author platform and the foundation of this platform is your author website.
Along with this, you'll need to be on social media and you'll need to create an email list.
While this may all seem like a lot of effort, if you want to make you and your books visible to potential buyers, if you want to sell books, it's necessary.
If you need help with the first part of your book writing journey, I'm a children's ghostwriter, rewriter, and coach. Let me take your story for a spin. Contact me today at kcioffiventrice@gmail.com
Or, give me a call at 347—834—6700
Let's get your book in publishable shape today!
Reference:
(1) 5 Horrible Mistakes Self-Published Authors Make


Self-Publishing: 3 Tips to Help You Avoid the 'I Want It Now Syndrome'
Writing with Clarity
Writing a Book – To Publish Traditionally or Self-Publish