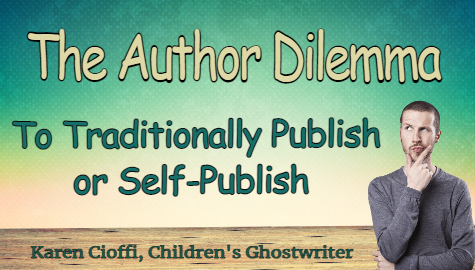 Whether to publish traditionally or self-publish is the question I get most from my ghosting clients. Most new to the writing arena don't understand what's involved with either path. This article will hopefully shed some light on the topic.
Traditional Publishing
With traditional publishing, you submit your EDITED manuscript to publishing houses and/or literary agents.
To submit to publishers means finding ones that accept submissions in your genre. To do this, you'll need to write a query letter. It's the query letter that you first submit. And, until you find a publisher who's interested in your manuscript, you have to keep submitting.
It's the same process for both publishers and literary agents.
There's no way to determine how long it can take to find a publisher or agent who will offer you a contract. It could happen quickly (not the norm) or it can take a year, two years, or more. There are no guarantees it will happen.
As an example, it took Chicken Soup for the Soul 144 rejections before finally getting a publishing contract. And, they put a lot of time and effort into their publishing quest.
And, there are lots of other famous authors who had their share of rejections. Check out this LitHub article: The Most Rejected Books of All Time
The traditional process takes perseverance and commitment. You need to research publishers and agents. For this process, I recommend getting "Children's Writer's and Illustrator's Market [current year]." It has hundreds of listings.
If you're not a children's author, you can use "Writer's Market [current year]."
Assuming you do get a contract, it can take up to two years before your book will actually be available for sale.
Again, there are no guarantees with the traditional publishing route.
But, with all that said, there is still a level of 'status' and credibility with books that are traditionally published. And, you never know if you'll get a contract quicker than expected. An added bonus if you're writing a children's picture book, you won't have to find an illustrator or pay for illustrations and a book cover.
Self-Publishing
With self-publishing you're in control.
You write your story or hire a ghostwriter to write it for you. Just make sure the story is edited and proofed before moving onto the next step.
Once that's done, you're off to find an illustrator – this is if you're creating a picture book or even a chapter book / middle grade that will include some illustrations, even if just black and white.
You can find children's book illustrators at:
http://fiverr.com
http://upwork.com
http://www.childrensillustrators.com
http://blueberryillustrations.com (look for children's book illustrations)
You can also do an online search. I provide my clients with a list of illustrators my clients have worked with.
While you can find some 'cheap' illustrators out there, be sure of their skills. Be sure they understand what you're looking for. And, be sure they proof their own work. You MUST also check the illustrations to the text – make sure the illustrations are relevant to the content on that page. You'll also need to check for accuracy and consistency within the illustrations.
I've coordinated illustrations to text for clients and have found a number of errors from missing parts of feet to inconsistent furnishings from scene to scene.
After you have the illustrations with text layout, you will need to prepare/format and upload the book to publish it. For this, you can use services like Kindle Direct Publishing KDP (for ebooks and paperbacks).
For non-Amazon distribution, you can go with IngramSpark for print books or Draft2Digital and Smashwords for ebooks.
Just be aware that with these services, you'll need to do the work yourself – the manuscript will need to be properly formatted and you'll need to upload it yourself. If this intimidates you, you can hire someone on http://fiverr.com or http://upwork.com to do it for you.
There are services that will take your manuscript and run with it through print-ready files. They often offer packages. One is BookBaby.com, another is 1106 Design.
I also now offer Writing to Publication, taking your book from ghostwriting or rewriting through to illustrations and publication (including uploading to Amazon and IngramSpark). If you're interested and would like to discuss this service, send me an email to kcioffiventrice@gmail.com.
Warning: Some services that offer packages in addition to formatting and uploading your book for publishing will probably offer lots of other services: cover design, editing, illustrations, and so on. They can be expensive and I'm not sure of the quality of, say their editing services. So, have the book already to go. All you should need them for is actual publishing and distribution.
Another thing to look out for is that companies that offer publishing packages may not have the best copywriters, editors, and illustrators. ALWAYS check the work they do for you and if it's not right, insist they revise it. And, be sure to check out a few of their published books. And, if you hired them to do a website, check some of the websites they've designed. This means reading the copy they have on the pages too.
To find reputable self-publishing services, visit Alliance for Independent Authors. (Scroll down to the list of services and their grades.)
Summing it Up
So, whether to self-publish or go the traditional route depends on your time frame, finances, and commitment to submitting your work. And, if you choose the traditional path, you'll need to have patience and perseverance.
Reference:
https://janefriedman.com/self-publish-your-book/
MORE WRITING FOR CHILDREN
Children's Writing and Publishing Process – The Traditional Path
Self-Publishing: 3 Tips to Help You Avoid the 'I Want It Now Syndrome'
Striving to Be a Better Writer by Writing More


Let me take a look at it. I'm a working children's ghostwriter and rewriter. I can turn your story into a publishable book you'll be proud to be author of.
Shoot me an email at: kcioffiventrice@gmail.com (please put Children's Writing Help in the Subject line). Or, you can give me a call at 834—347—6700