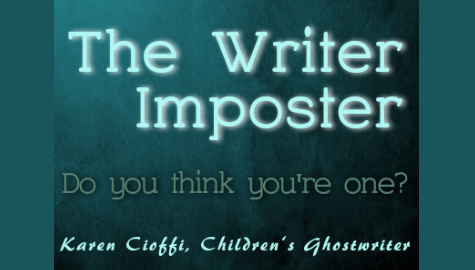 I watched an amazing Zoom webinar with Carolyn Howard-Johnson and her publisher Victor Volkman. It was from the Upper Peninsula Publishers and Authors Association Writing Conference – they did it virtually rather than in-person.
Carolyn is an award-winning author and an expert book marketer, so when she has something to share, I listen.
A small part of her talk was about the imposter syndrome.
Making it easier to understand, it's the 'I'm not good enough,' syndrome.
According to Wikipedia, the "imposter syndrome is a psychological pattern in which an individual doubts their skills, talents or accomplishments and has a persistent internalized fear of being exposed as a 'fraud'."
So, what has this to do with writers?
Well, once we feel we're not really a good writer, we begin to underestimate our ability and our value.
Unfortunately, this syndrome seeps its way into new and even seasoned writers and it can cause consequences.
The 'I'm not a good enough writer' syndrome or I'm a fraud and sooner or later everyone will know.
Have you ever felt like this?
Once a writer has these feelings, it can stop her from moving forward.
Maybe she's been thinking of seeking an agent's representation.
Maybe he's thought of submitting to traditional publishers.
Maybe he's wanted to get article published in magazines, like Writer's Digest or the Writer. Or, maybe there's another magazine they'd love to write for.
BUT …
She doesn't think she's good enough so doesn't even try.
There's an expression I love: Nothing ventured, nothing gained.
You don't have to be the best writer on Earth.
It's not the best writer who succeeds, it's the write who perseveres. Part of perseverance is to actually submit your work.
It's about writing the book you want to write and self-publishing if that's the route you want to go.
It's about submitting your manuscript to agents and publishers.
With that said, it is important to make sure you at least know how to write.
Read a lot.
Read books the agent has represented if that's what you want to do.
Read books that the publisher has published if that your dream.
Read 'good' books in the genre you want to write.
And, take the time to learn how to write, if you haven't yet. There are amazing online classes that can help you with this.
Another problem is if a writer with this syndrome offers services, like editing or ghostwriting.
If you're offering writing services and don't really believe you're qualified enough to offer these services, you're in trouble.
The first thing that will happen is you won't charge what you're worth. This can cause a domino effect.
Your lower prices will have some potential clients believing you're not as good as other services are charging more.
You may let clients tell you how to write. Or, you may not be confident to explain to your client that what he has done or wants to do won't work.
You'll second guess most everything you do.
If you have these feelings, it might be helpful to create a vision board.
Put a few quotes or saying that will help you believe in yourself. Be sure to keep it where you'll see it every day!
And another good idea is to keep learning your craft.
This also goes for wannabe authors. Learn about write by reading books in the genre you want to write and then go for it.
If you're not sure how to go about it and need some help, I'll be happy to jump in. Whether you need ghostwriting, rewriting, or coaching, just send me an email and we can discuss your project.
To watch Carolyn's talk, which has lots of book marketing tips, CLICK BELOW:

Whether you need help with ghostwriting or rewriting, or coaching, let me take a look at your children's story. Just send me an email at: kcioffiventrice@gmail.com. Please put "Children's Writing" in the Subject box. Or, give me a call at 347—834—6700
Let's get your idea off the launch pad or your outline into a publishable story today!
Or, if you'd rather give it a shot and do-it-yourself, check out my book, HOW TO WRITE A CHILDREN'S FICTION BOOK.
MORE ON WRITING FOR CHILDREN
Get Clear About Your Ultimate Writing Goals
Middle Grade Book Versus Young Adult Book
Supporting Characters and Your Story