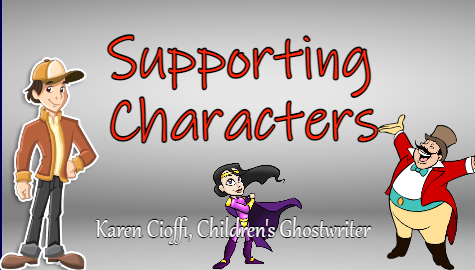 Every story has a least one supporting character.
According to Cynthia Lord, author of "Rules," a Newberry Honor Book, "A secondary character has two jobs: to show us another side of the main character and to create tension and problems that will move the plot ahead." (1)
To understand this, think of any story. Now imagine that story with just the main character.
Who would he talk to?
Yes, he could talk to himself, but that would get old fast.
How would we learn more about the character other than what he would tell us himself?
We wouldn't.
Supporting characters are necessary to every story.
Using Supporting Characters to Learn More About the Protagonist
A movie I loved is Cast Away, the 2001 movie with Tom Hanks.
Hanks played Chuck Noland, a FedEx worker who gets stranded on a remote desert island. He's stranded on this island for four years.
No other people are around.
So, the clever writer, William Broyles, Jr., created a supporting character for Chuck. A volleyball that washes up on shore.
Yes, a volleyball.
As time goes on, Chuck names the volleyball Wilson.
If not for Wilson, the viewer would know very little about Chuck and there wouldn't be much of a story.
Chuck talks to Wilson, confides in Wilson, argues with Wilson, and even cares about Wilson.
If you haven't seen it, it's an amazing movie. One that proves even an inanimate object can be a powerful supporting character.
While Wilson showed us a lot about Chuck's character, an inanimate object as a supporting character doesn't really do much to move a story forward. And, it doesn't have much ability to add tension or problems into the story.
In this movie, the elements and Chuck's emotional state were the antagonists causing conflict.
Using Supporting Characters to Provide Conflict
Supporting characters can actually provide the conflict for the main character and drive the story forward.
I'm writing a sequel to my middle grade fantasy, Walking Through Walls, and it's the supporting character who is adding a big serving of problems for the main character.
In the first book, the story was solely about the main character, Wang. It was about his struggle to get what he wanted. While the supporting character Chen was introduced, he didn't have a significant role.
In Book Two, Chen is the source of the conflict and struggles the two friends go through to reach their goal.
In this new story, which I haven't given a title yet, Chen is the one with a problem. His sister was abducted by evil warriors and he asks Wang's help to get her back.
As the main character, Wang is learning his skills as an Eternal student while helping Chen. This all allows the reader to see more of Wang's character and to connect with him.
The story is a fantasy action adventure, so along the way the two friends will encounter a number of obstacles on their journey to save Chen's sister.
Using Supporting Characters to Provide Subplots
Sometimes, a story from Point A to Point B, may be a little boring or may just need a little something to spice it up.
According to New York Book Editors, "subplots add dimension to your story. They have the power to transform flat black-and-white stories into a living, breathing, prismatic experience." (2)
Subplots can also help pace your story.
I'm using this strategy in a middle grade story I'm ghostwriting.
The main storyline is strong, but to carry its weight through 50,000 words, it may lose steam.
The solution is to have the supporting characters have their own little stories going on. While the main character is privy to everything that's going on, these little diversions create reader engagement and help move the story forward.
Another benefit of subplots with supporting characters is that they can be in the forefront for a short while to liven things up, then lie low until needed again.
These subplots help the reader get better acquainted with the characters.
It's important to remember, though, that when you create a subplot in a story, you need to have an arc for each subplot you create. You need to tie up any loose ends it creates. Think of it as a mini-story within the main story.
So, if you're writing your first book, think about your supporting characters. How will they help liven your story up and engage the reader? How will they help move your story forward?
References:
(1) https://gointothestory.blcklst.com/great-characters-wilson-cast-away-5a6ff322139d
(2) https://nybookeditors.com/2017/11/the-importance-of-subplots/


Whether you need help with ghostwriting or rewriting, let me take a look at your children's story. Just send me an email at: kcioffiventrice@gmail.com. Please put "Children's Writing" in the Subject box. Or, give me a call at 347—834—6700
Let's get your idea off the launch pad or your outline into a publishable story today!
Or, if you'd rather give it a shot and do-it-yourself, check out my book, HOW TO WRITE A CHILDREN'S FICTION BOOK.
MORE ON WRITING FOR CHILDREN
Writing Success – You Have to Walk-the-Walk
80 Quotes to Get You Moving Toward Your Goals