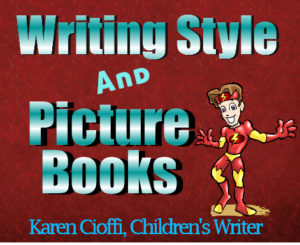 A writing style is the way a writer writes a story. It's the words used, sentence structure, tone used, and even the method used.
The children's picture book writing style is unique for two main reasons:
1. You're dealing with young children.
2. You're often dealing with parents and teachers who will read the story to young children.
Let's break the reasons down.
1. Simple words, simple sentences, simple ideas.
When writing for children you must remember you're writing for children.
It may sound silly, but it's easy to forget this and end up writing for yourself. Always remember your audience will be young children.
Reason one is broken into two categories:
A. Your sentences are too long and complex for the young reader. Or, the words you're using are too advanced for the young reader.
I've been guilty of this one. I'll write the story using longer sentences than I should and using words that are too advanced for the target reader. This is a no-no.
Children, especially young children need things kept simple: simple words, simple sentence structure and length, and simple story line.
As a simple (and exaggerated) example:
BAD: Freddie couldn't comprehend the complexity of the situation.
BETTER: Freddie didn't understand.
The 'better' example above reduces the length of the sentence and simplifies it also. Children will quickly understand what's being said. And, if parents/teachers are involved, they won't be stumbling over a complex sentence.
Simple is better with young children.
There's a great book to help with the use of age appropriate words when writing for children, "The Children's Writer's Word Book" by Alijandra and Tayopa Mogilner.
B. In addition to simple words and simple sentences, you need to think about the scenarios you're creating. You don't want to give young children bad or dangerous ideas, like sneaking out at night, or running away from parents when in an amusement park, or running into the street.
This doesn't pertain to young adults and even some upper middle grade. In these genres, the reader is able to grasp just about as much as an adult.
But, for picture books you need to keep it on the simpler side.
2. Parents and teachers may be involved.
Parents and teachers often read picture books to children. You certainly don't want them stumbling over long sentences. And, their audience is very young children who will usually have very short attention spans.
Think of a one or two-year-old who can't get away fast enough or who's squirming all over his mom trying to grab the teddy bear that's sitting on the shelf.
Next, think of the kids in pre-school and kindergarten. Granted they have a better attention span than the toddler, but not by much.
Make the picture book kid-friendly. Simple words, simple sentences, and simple story line.
You also need to consider the parent who is reading their child a bedtime story. Make the story flow. Keep it simple. Make it engage the reader as well as their audience.
How to test your story.
To help get a handle on your story, to help determine if it's simple enough, Mary Kole from Kidlit advises to read the story out loud. It's so much different than just reading it. (1)
Reading aloud, you won't just glaze over the words, you'll have to read each one to say them. You'll get a better sense of how it sounds and flows.
An even better test, if possible, have someone read it out loud for you. Maybe a family member or friend or critique partner. This is even better than reading it yourself because that person won't be familiar with the story. You'll be able to catch all the snags in the story that can cause pausing or stumbling.
(1) Picture Book Writing Style


Let me take a look at it. I'm a working children's ghostwriter and rewriter. I can turn your story into a publishable book that you'll be proud to be author of.
Shoot me an email at: kcioffiventrice@gmail.com (please put Children's Writing Help in the Subject line). Or, you can give me a call at 834—347—6700


Writing With Clarity
5 Top Fiction Writing No-Nos
The Writing Elements Mix – Is There a Right Balance?