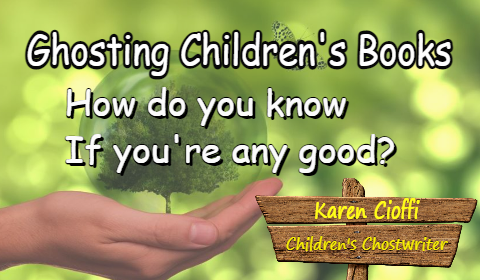 Some writers can at times wonder if they're 'good enough'. Are they fulfilling their clients' expectations? They may occasionally doubt their writing skills and ability. I think it goes with the territory.
They may take on a project they've never done before. Yep, doubts surface.
They see peers getting credits from major magazines or getting book after book traditionally published. Doubts will undoubtably surface.
Hey, writers are human.
But what about ghostwriting. You're not submitting traditionally yourself, so you don't have the rejection or acceptance feedback.
So how do you know if you're good at being a children's ghostwriter or other type of ghostwriter?
Well, there are at least five telltale signs.
1. The proof is in the pudding, right?
This is a perfect analogy for whether you're good at what you do.
One clear way to tell if you're effective at what you do is by the reactions of your clients.
Are your clients unhappy? Are they satisfied? Are they pleased? Are they happy? Are they overjoyed? Are they thrilled to tears?
Now, not all clients may cry at the masterpiece you create for them, but you want every one of your clients to be 'very happy to overjoyed' at the very least.
You can tell if you're successful by how your clients react to the finished product.
2. Do any of your clients come back (repeat clients)?
It's true that because of the expense of having a book ghosted, not all clients can afford to hire-out more than one book. But, have you had any clients request a second project with you?
If you have, you can be assured you're doing something right.
3. Do you have clients with a series?
This is kind of like #2 above, but it's an even stronger indication that you're producing the goods.
Clients who invest in a series with you believe in you and your ability. If they didn't love what you created with Book One, they would never move forward in a series project. So, if you're looking for a Ghostwriting Stamp of Approval, this is it.
4. Are you getting testimonials?
I'm adding this here, but it not necessarily a clear indication of your qualifications. The reason is most ghosting clients don't want to share that they've hired a ghostwriter.
If you're fortunate to get some testimonials, that's fantastic. The reason is because it's not only personal validation of your qualifications, it's public validation.
Testimonials are also a great marketing tool. People are influenced by what others think of your work.
5. Have any of your clients traditionally published? Have they won awards?
This is the icing on the cake.
Have any of your clients submitted to traditional publishers and agents? If so, have they gotten a contract?
As a ghostwriter you usually cannot use this as a promotional tool, but it definitely is another personal stamp of approval.
So, if you're wondering if you've got the stuff to be a children's ghostwriter, use these five questions to put your mind at ease.


Children's Writing and Publishing Process – The Traditional Path
Children, the Environment, and Story Telling
Submitting Manuscript Queries – Be Specific and Professional

Let me take a look at your notes, outline, or draft. I'm a working children's ghostwriter, rewriter, and coach. I can turn your story into a publishable book you'll be proud to be author of.
Shoot me an email at: kcioffiventrice@gmail.com (please put Children's Writing Help in the Subject line). Or, you can give me a call at 834—347—6700