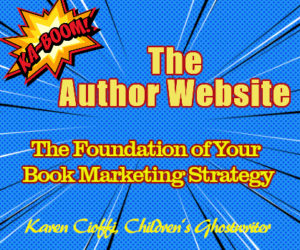 At this point in time, with the internet an integral part of book marketing, EVERYONE knows that if you're writing a book or have a book already done, you must have an author website. (If you fall into this category and don't have a site up yet, get it started today.)
So what are the top tips for an effective author website?
Let's start before the visitor actually lands on your website.
1. You need an easy and readable domain name (URL).
Examples of good domain names for authors might be:
– children's writer
– romance writer
– historical writer
– writing romance
– writing for children
– mystery writing
– suspense author
You get the idea.
The problem though is that most 'good' domains are already taken. So, what can you do?
Simply add your name to the domain:
karencioffiwritingforchildren.com
If you can't find the perfect name for your site, just add your name to it.
Why this is effective is because although your name is in it, which has NO SEO value unless you're someone like James Patterson, you do have the wanted keyword in it. In my case, "writingforchildren."
Having a keyword effective domain name allows people searching for your niche to have a better chance of finding you. And, it lets the search engines know what your site is about. This is all good for you.
The following tips relate to when someone lands on your site.
2. One of the first things a visitor will see is your website title and subtitle.
This is where you can elaborate on your domain name. Using my website again as an example, my title is: Writing for Children with Karen Cioffi. To make it more effective, more optimized, my subtitle is: Ghostwriting, Rewriting, Editing, Freelance Writing.
This gives me great keywords that are relevant to my website and it also immediately lets the visitor know what my site is about. It also helps the search engines further define my site.
3. You want your site easy to navigate.
This means having a visible menu bar (navigation bar).
It seems every day people have less and less time to read what your author website is about. Count yourself lucky if a visitor stays on your site for 5 or more seconds.
Basically, you want the visitor to immediately know what you're about and you want that visitor to be able to quickly find what he's looking for.
Does he want to visit your resources page? Does she want to visit your testimonials page? Does he want to visit your books page?
Have the menu bar front and center. Let your visitors quickly find where they want to go.
The best place for the menu is just below your website header. People are used to seeing it there and it's about the easiest place to find it and use it.
4. Your landing page content should be focused and easy to read.
From your landing page (home page) title to the heading to the content itself, let the visitor know what she can find on your site. Let her know what she can GET on your site. Let her know how your site can help her, enlighten her, amuse her.
Keep your site focused and tight. People don't want to read 1000 words on a landing page anymore. They want to find what they want and get out lickety-split.
Keep it simple and easy to read. Use subheadings, bold, colored text, and even highlights to bring the reader to the important things quickly. Lots of readers are skim readers (I'm one) – they'll appreciate the ease of reading.
5. Have a call-to-action (CTA) that works.
The first thing a visitor to your site will notice about your CTA is if its striking. Be sure the visitor can quickly find it too.
This brings up another point, the location. Keep the CTA, especially if it's for a subscriber list, at the top of your sidebar. You can also put it in the content itself and at the end. Give your visitor plenty of opportunity to click on it.
If you have a website header that provides for it, add it to your header also.
There are also the slide-in or pop-up CTAs. I'm not crazy about these and don't use them – I think they're intrusive and annoying. But, if you feel you can get more conversion with it, give it a try.
Next, make the text in the CTA short and sweet and CLEAR (very easy to understand).
You want to make it motivating. It should also be actionable. Use action verbs with a time element: Download Now / Get Started Today / Buy Now.
You need to actually tell the visitor what to do. So, don't use copy like, "Need Help?" Use copy like, "Get Help Today!"
Summing it up.
There you have it, five tips to help you create and/or maintain an effective author website as the foundation of your book marketing. And, aside from your domain name, you can tweak just about everything else on a website if it's not working as it should – if it's not getting conversions.
* Conversion is what happens when a visitor clicks on one of your CTAs. It's a visitor taking action. This is a primary purpose of your author website.
WANT TO BE A CHILDREN'S WRITER?
Being a writer, like being any kind of artist who creates something from nothing, is an amazing ability. It's almost like magic. And, you are in control. You decide what to create. The only limit you have is the cap on your imagination.
Check out my 180 page ebook that gives you all the basics of WRITING FICTION FOR CHILDREN, (including finding a publisher or agent, and marketing your books).


Amazon Author Central Page and Book Page – Make the Most of Them
Picture Books – Story or Illustrations, Which Comes First?
Writing – Showing vs. Telling