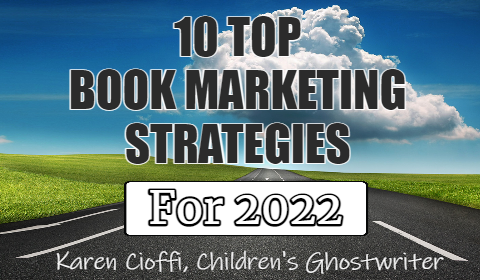 I say this a lot, but every author needs to know about book marketing, whether you're self-published or traditionally published.
I want to bring this to every author's attention, especially my children's ghostwriting clients.
If you're wondering if it's really necessary to market your book, it is.
Well, it is if you want to sell your books. If you want to reach your intended target audience.
I would think most authors do.
According to Self-PublishingSchool.com, "Even if your book is the next Great American Novel, it won't be a success if it doesn't get into the collective consciousness of the public." (1)
This means if people don't know about your book, they can't buy it.
Here are 10 of the most important tips to bring you and your books visibility and credibility, boost your mailing list, and boost sales.
Pre-Publishing Tips:
Write a quality book.
This should go without saying, but with the ease of self-publishing it's worth mentioning.
Do it right and write a quality story. Be sure to edit it and if at all possible have it professionally edited.
Have an eye-catching book cover created.
Your book cover is the first thing a potential buyer will see. You don't want it to look unprofessional.
Research book cover illustrators or designers. Check pricing and quality, and check their portfolios. Find one you like.
Price your book effectively.
For this you'll need to do some research to see what similar books in your genre are selling for. You don't want to overprice yourself out of a sale.
Use a 'good' book publishing service.
You want a service that will take your manuscript and cover and build your ebook and/or paperback files to be uploaded to aggregators (Ingram Spark) or distributors (Amazon).
Services like BookBaby.com and 1106 Design.com do all this. But you should do some research and ask around for other services.
Find one you're comfortable with and one that's within your budget.
Now on to actually marketing your book:
You really, really, really need an author website.
A number of authors believe that having space on social media is good enough, but it's not.
Remember when Google+ was around? How about StumbleUpon? What about Yik Yak and Vine?
Aside from this, new networks are popping up all the time, taking users from older networks.
You need your own author website as the hub to all your online activity.
And, you can create one for free.
Here's an article that explains more the author website:
Why You Absolutely Need an Author Website
You need to be on social media.
Ha, sounds like a contradiction, but it's not.
There's a difference between using social media as your everything and using is to generate visibility and website traffic, and sales.
Social media is a main source of visibility – it should be used to drive traffic to your website and to make sales. Marketing experts recommend choosing two social media sites to work.
It's the adage, don't go wide and shallow, go narrow and deep.
I would also recommend using YouTube. If you don't have an account, simply create one.
Post weekly or bi-weekly videos centering around your book's topic. Video is a powerful marketing tool. As you continue to post, you'll eventually engage people and get subscribers.
Statistics vary on this, but according to Spark.Adobe, Instagram is the social media leader with YouTube then Facebook following. Twitter, TikTok, Pinterest follow Facebook.

To use social media properly, you need to post to your networks every day. If possible, multiple times a day. There are automated services to help you with this. You can post about your book's topic, related interesting things, and about your book.
It's important to remember the 80/20 rule, though. Give 80% entertaining or useful information and 20% promotion.
You should also share other users' posts, and comment when time allows.
Create an email list.
Email marketing is how you connect on a more personal level with your readers. It allows you to tell them about your new projects, services, and books you have for sale.
Just as important, it allows you to offer tips and help to your subscribers!
For more on email marketing, check out:
4 Tips to an Effective Subscriber Opt-in
Email Marketing – 10 Top Reasons to BE Doing It
Get attention.
A. Connect with influencers in your arena. Query influencers to get a guest blog post on their sites. Just be sure you know what they're looking for and pay close attention to their guidelines.
B. Similarly, look for people who do author interviews and/or podcasts with authors. Chances are they'd appreciate having someone new on their blog or show.
C. Contact your local libraries and let them know you have a new book out. You can also contact your local newspapers and TV stations. They're usually looking for new content, especially when it involves a local author.
Work on getting book reviews.
Book reviews help sell books.
Do some research on bloggers who post book reviews. Reach out to them and ask if they'd be willing to review your book. Just make sure your book is a fit for their site.
Ask people you know for reviews.
There are lots of other ways to get review. A great source for this is How to Get Great Book Reviews Frugally and Ethically by Carolyn Howard-Johnson. It's jammed-packed with useable tips and advice.
Be sure to ask whoever reviews you book to put the review up on Amazon.
Get into book clubs.
The more visibility your book gets, the more sales you'll make.
A great way to boost your visibility is through book clubs.
The article below has great tips on how you can go about doing this:
https://selfpublishingrelief.com/2019/04/the-definitive-guide-to-marketing-your-book-to-book-clubs-self-publishing-relief/
Bonus tip.
Keep writing books. Don't be a one-book author.
And, to help you with your publishing journey, author and acquisitions editor Terry Whalin has a very useful book. I read it and it's worth the investment: 10 Publishing Myths by Terry Whalin
I hope these tips help you get your book visible and selling!
Need help getting your author platform off the ground or taking it up a notch or two?
Check out my 4-week interactive eClass through WOW! Women on Writing, Build Your Author/Writer Platform.
LIKE THIS POST? PLEASE SHARE!