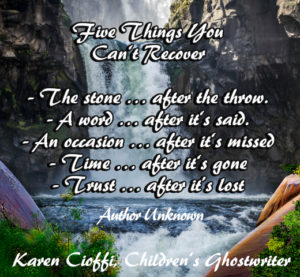 5 Things You Can't Recover
The stone … after the throw
A word … after it's said
An occasion … after it's missed
Time … after it's gone
Trust … after it's lost
I love this quote and wish I knew who originally wrote it. It was originally four things, I added the fifth.
While there are other losses that can't be recovered, these are five important things to think about.
1. The 'stone' may be an action that can't be recovered.
It's kind of like 'the word," only with actions.
It may be getting angry and acting upon it too quickly. It may be refusing to help someone who is in need. It may be taking the wrong path. It may be submitting your manuscript before it's ready – I actually did this early on in my career.
2. The 'word' is an easy one.
We've probably all said something we shouldn't have and later regretted it. Words are powerful: they can help, they can be uplifting, they can be motivating, they can be inspiring, they can hurt, they can be devastating.
And once a word is said, it's out there forever. Choose your words carefully – in speaking and in writing.
Here are a few 'word' quotes:
"Kind words can be short and easy to speak, but their echoes are truly endless." ~ Mother Teresa
"Be careful what you say. You can say something hurtful in ten seconds, but ten years later, the wounds are still there." ~ Joel Osteen
"All I need is a sheet of paper and something to write with, and then I can turn the world upside down." ~ Friedrich Nietzsche
"The tongue has no bones, but is strong enough to break a heart. So be careful with your words." ~ Unknown
3. The 'occasion' reminds me of missed opportunities.
It may be a lost opportunity to support someone in their endeavors or help someone in need. It may be a trip you've wanted to go on, but never did. It may be a work opportunity that you let slip by. It may be spending more time with family and friends. It may be the smile that might have brightened someone's day. It may be never sitting down to write that story that keeps seeping into your head.
Here are two great quotes on missing opportunities:
"Nothing is more expensive than a missed opportunity."
~ H. Jackson Brown, Jr.
"Opportunity is missed by most people because it's dressed in overalls and looks like work." ~ Thomas Edison
4. Time is another obvious one.
Every moment that passes is a moment that's gone forever. Instead of procrastinating about writing or submitting your work or self-publishing, do it now. Make the time.
Here are a few of 'time' quotes:
"Someone is sitting in the shade today because someone planted a tree a long time ago."
~ Warren Buffett
"Time is free, but its priceless. You can't own it, but you can use it. You can't keep it, but you can spend it. Once you've lost it, you can never get it back."
~ Harvey MacKay
"Don't be fooled by the calendar. There are only as many days in the year as you make use of. One man gets only a week's value out of a year while another man gets a full year's value out of a week." ~ Charles Richards
"The key is in not spending time, but in investing it." ~ Stephen R. Covey
"Stop acting as if life is a rehearsal. Live this day as if it were your last. The past is over and gone. The future is not guaranteed." ~ Wayne Dyer
5. Trust lost can take a lifetime to recover, if recoverable at all.
Here are a few 'trust' quotes:
"It takes 20 years to build a reputation and five minutes to ruin it." ~ Warren Buffett
"The glue that holds all relationships together–including the relationship between the leader and the led–is trust, and trust is based on integrity."
~ Brian Tracy
"Trust is like blood pressure. It's silent, vital to good health, and if abused it can be deadly." ~ Frank Sonnenberg
"The best way to find out if you can trust somebody is to trust them."
~ Ernest Hemingway
"Whoever is careless with the truth in small matters cannot be trusted with important matters." ~ Albert Einstein
When thinking of these 'unrecoverable' moments, Dan Nielsen said, "It caused me to stop and ponder just how many moments I may have thrown a stone or a hateful word, missed an occasion, and lost time. What have I lost because of these instances? How would my life be different if I would have taken the time to consider my actions in the moment?"
Certainly things to ponder.



WANT TO BE A CHILDREN'S WRITER?
Being a writer, like being any kind of artist who creates something from nothing, is an amazing ability. It's almost like magic. And, you are in control. You decide what to create. The only limit you have is the cap on your imagination.
Check out my 170+ page ebook (or paperback) that gives you all the basics of FICTION WRITING FOR CHILDREN. It's newly revised and includes information on finding a publisher or agent and marketing your books.


Should You Really Write a Book?
4 Reasons Why Self-Publishing Your Children's Book May Be Your Best Option