THANK YOU FOR YOUR PURCHASE OF "HOW TO WRITE A CHILDREN'S FICTION BOOK."
Please click on the IMAGE below. It will bring you to the Download Page, where you'll need to click on the black and white book image on that page to get the ebook.
Sorry for the roundabout, but I didn't have the option to thank you on the download page, and definitely wanted to do so. Also, I wanted to explain that you need to click on the black and white book image on the download page. And finally, I wanted to let you know that you can email me in the event something goes wrong with the download, as anything can happen in cyberspace. If you do have any problems with the download, please see below.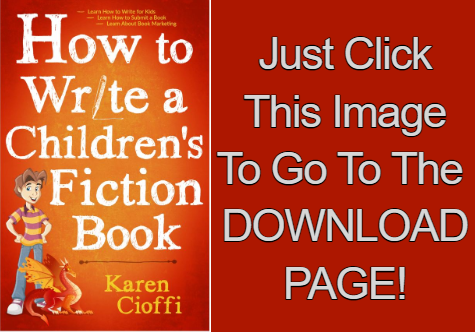 IF YOU HAVE ANY PROBLEM DOWNLOADING THE EBOOK, PLEASE SEND ME AN EMAIL AND I'LL SEND YOU THE PDF PERSONALLY.

BONUS: if you like the book and find it helpful, I'd love a review of it on Amazon. Reviews help sell books.
If you let me know you have a review up, via email, after I check it, I'll send you a DIY Self-publishing PDF. It covers hiring a book formatter, getting an ISBN, getting a book cover, and uploading to the distributor or retailer.
My email is kcioffiventrice@gmail.com
I hope this book helps you through your children's book writing journey!
PLEASE DO NOT SHARE THIS PAGE!