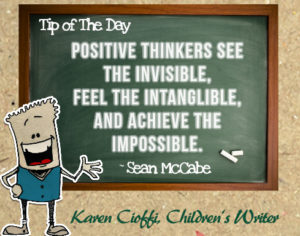 I've been looking for a house, for about two months now. And, when I saw this quote by Sean McCabe, it amazed me how accurate it is.
As my husband and I are looking, my husband sees all the things wrong with each house. It has wall paper, it needs a complete renovation, it needs a kitchen, the basement needs to be done, the rooms aren't right. The lot is too big. It's a corner property. The list can go on and on.
I see all the things right with each house. I see how it could be. I have the ability to look beyond what's actually there (see the invisible and feel the intangible) and see what can be.
It made me think about writing. Most writers understand that writing can be a tough business. There are lots of rejections and lots of ups and downs. To survive in this business, you need to keep a positive mindset. You need to persevere. You need to see beyond the slumps. You need to keep moving forward and achieve what may seem impossible.
This also goes for those who want to be an author but have no clue how to go about doing it. Seeing things through a positive mindset allows you to figure out what to do, whether it means hiring a ghostwriter or taking the steps necessary to learn to write yourself.
But, it goes beyond writing. As with everything in life, there will be obstacles in your path. Sometimes those obstacles may seem insurmountable. The key is to not let them stop you. Keep moving forward. You might even envision yourself happily beyond the problem or obstacle.
So, whether it's with your writing life or life itself, be a positive thinker. See the invisible and the intangible and achieve the impossible.


Being a writer, like being any kind of artist who creates something from nothing, is an amazing ability. It's almost like magic. And, you are in control. You decide what to create. The only limit you have is the cap on your imagination.
Check out my 170+ page ebook (or paperback) that gives you all the basics of WRITING FICTION FOR CHILDREN. It's newly revised and includes information on finding a publisher or agent and marketing your books.
Or, if you'd prefer discussing your children's project with me to have it rewritten or ghostwritten, shoot me an email at: kcioffiventrice@gmail.com