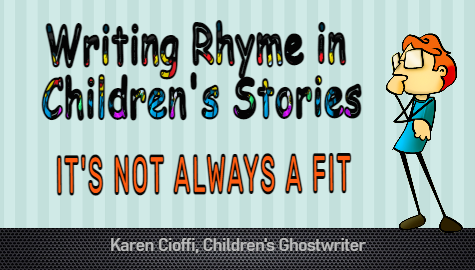 Rhyming, when done right, is a wonderful way to engage children. Children, as soon as they're able, love to rhyme words . . . and this can begin as early as two-years-old: cat-hat, mouse-house. But, to write a rhyming story . . . a well written rhyming story . . . is difficult; you need a good story, rhyme, rhythm/beat, meter, stresses, and more—all this in addition to the already unique rules and tricks in writing for children. And, some writers just don't have that innate ability to do rhyme well. But, it can be learned.
According to Delia Marshall Turner, Ph.D., the elements of poetry are: voice; stanza; sound; rhythm; figures of speech; and form.
Voice (the speaker)
Stanza (the format of lines grouped together)
Sound (rhyme and other patterns)
Rhythm (the beat and meter – the pattern of stressed and unstressed syllables)
Figures of Speech (types of figurative language)
Form (the type of poem, its design)
Along with this there is perfect rhyme, and approximate rhyme:
Perfect rhyme: tie/lie; stay/day
Approximate rhyme: top/cope; comb/tomb
And, there are many more bits and pieces that go into writing poetry/ rhyme. But, the foundation that holds your rhyming story all together is the story itself—you need a good story, especially when writing for children.
Another great source of rhyming information is the article, "To Rhyme or Not to Rhyme" by Dori Chaconas, in the Writer Magazine, October 2001: "You may write in perfect rhyme, with perfect rhythm, but if your piece lacks the elements of a good story, your efforts will be all fluff without substance. I like to think of story as the key element, and if the story is solid, and conducive to rhyme, the rhyme will then enhance the story."
This is a wonderful explanation because it mentions "if the story is solid, and conducive to rhyme." This means that not all stories will work in rhyme, and the writer needs to know whether his will or will not.
So, if you're interested in writing in rhyme, there are a number of sites and articles online that can help, there are also books available, and classes you can take. Do a Google search for the tools that are right for you.
Two great places to start your search is at:
http://www.underdown.org/mf-rhyme-and-meter.htm
http://www.writingrhymeandmeter.com/
MORE ON WRITING FOR CHILDREN
Striving to Be a Better Writer by Writing More
Book Marketing – You've Gotta Have a Blog
Writing, Submissions, and Working with Editors

Whether you need help with ghostwriting, rewriting, or coaching, let me take a look at your children's story.
Just send me an email at: kcioffiventrice@gmail.com. Please put "Children's Writing" in the Subject box. Or, give me a call at 347—834—6700.
Let's get your idea off the launch pad or your outline into a publishable and marketable story today!
Or, if you'd rather give it a shot and do-it-yourself, check out my book, HOW TO WRITE A CHILDREN'S FICTION BOOK.