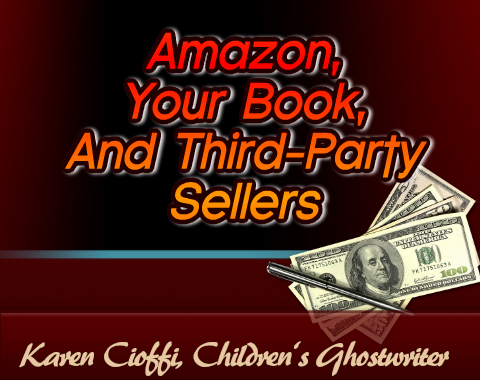 I thought everyone knew about what's going on with Amazon and third-party sellers until I recently shared a post from Vox on my social media.
One reader had no idea this is going on.
And, it's going on elsewhere also, like on Walmart's site.
For a while now, I've known that when I purchase a physical book, I have to be careful that I'm actually purchasing the book from Amazon and not a third-party seller.
Before I go on, let me explain why this matters to every author and publishing house.
Book distributors, like Amazon and Barnes and Noble, and now Walmart, buy books from book publishers.
The distributors in turn sell the books to the end-user (the reader) and the publisher gets a percentage of the sale.
The publisher then gives the author a percentage of the money they make from the sale of the book.
This is a simple look at how book sales work within the traditional publishing realm.
Now, when a distributor like Amazon allows third-party sellers to sell through their site, no one knows where the third-party sellers are getting their books from. But it's a pretty sure bet that they're not buying them from the publisher.
According to Publisher's Weekly, these third-party sellers must provide new books in order to get Amazon's first Buy Button. The problem is that the sellers' sources are likely from: "used books, review copies, gray market titles, and imports."
So, what happens when third-party sellers get the sale?
The seller gets his money.
Amazon gets its percentage of the sale.
The publisher doesn't get any money.
The author doesn't get any money.
The system breaks down.
This is something every book purchaser needs to be aware of.
If the first option doesn't say 'Sold by Amazon,' you need to scroll down until you see Amazon as the seller.
I randomly chose a book that Amazon came up with as 'popular:'
"Code 7: Cracking the Code for an Epic Life" by Bryan R. Johnson.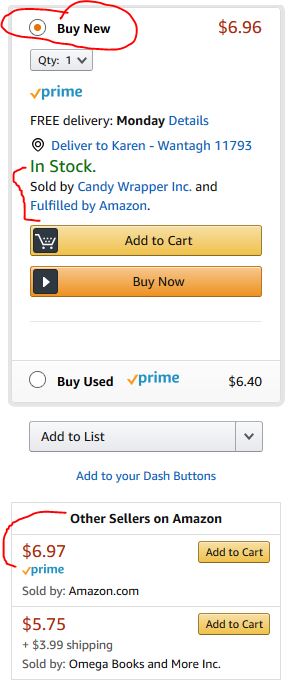 If you notice, the first option to buy this book is through a third-party seller. Looking at this now, I should have tried to get the title of the book in the picture.
Aside from that, if you're paying attention which seller you're buying from, you can scroll down and quickly find Amazon as the seller.
Sometimes you have to scroll past a few other third-party sellers.
Going back the next day, the first seller option for this book was Amazon.
So, it seems that each day, and possibly different times throughout a day, the first seller option changes.
I did another random search and chose "Zoe's Jungle" by Bethanie Murgula. This time I got the title in the picture: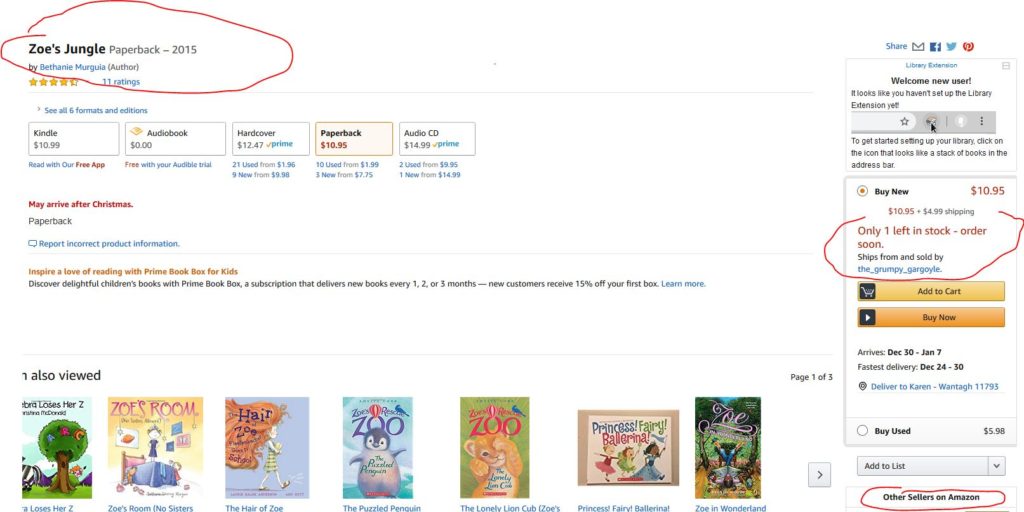 You can see the first seller option is a third-party. Interestingly on this one, under Other Sellers on Amazon there was just one other third-party seller. Amazon wasn't listed.
I also looked up my middle-grade fantasy, "Walking Through Walls," on Amazon.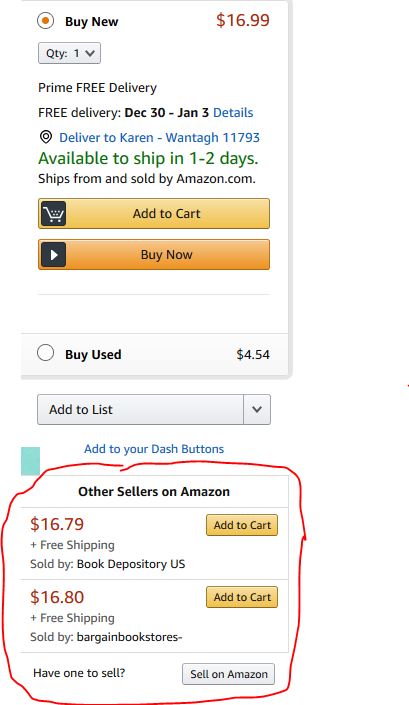 It so happens that Amazon came up as the first seller, but under that, there were options to buy from third-party sellers.
UPDATE JANUARY 5, 2020:
An editor, author friend mentioned that the paperback of my book is selling for $40.60 from a third-party seller on Amazon. The second option for sale is from another third-party seller and it's for $66.04. Amazon isn't listed as a seller.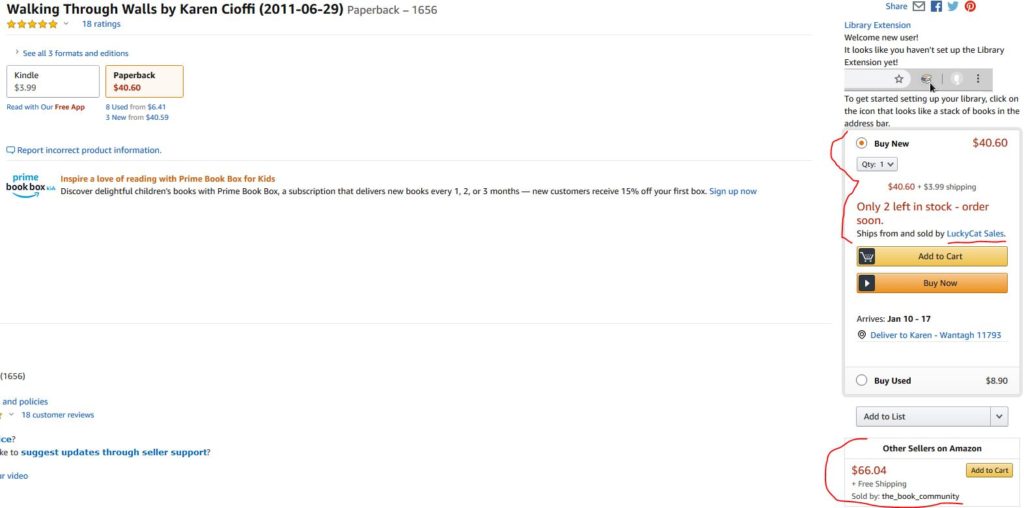 I find this so interesting and infuriating.
When I went back the same day, I found TWO listings for my book on Amazon.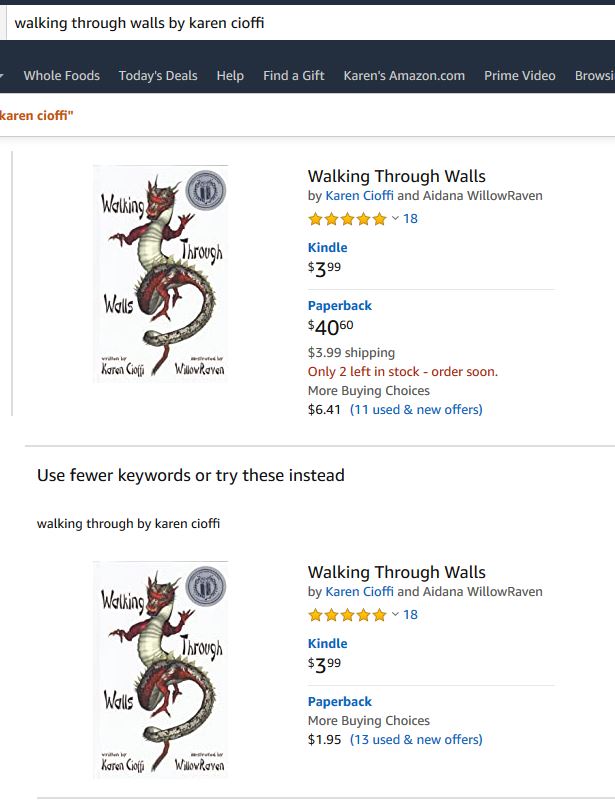 One was the one offering with the outrageous prices, the other was for more accurate pricing. But both listings didn't have Amazon as a seller, only third-party sellers.
On the higher priced paperback listing, there is the option for "More Buy Choices," but the NEW books were between $40 and $66.
On the second listing, the NEW books were accurately priced.
How does this happen? How does Amazon allow this to happen?
Are very small traditional publishers and self-publishers being hoodwinked?
I will check back in a few days and see if things change. If not, I'll link only to the publisher to sell the book. This will definitely effect sales, but so will offering a paperback children's book for $40 or $60.
I'll keep you posted to the ridiculous things that are going on at Amazon.
January 06, 2020
I went back today and here's what I found:

So, now the outrageous pricing is gone, but in the More Buying Options is a list of used and new books for sale.
Amazon is NOT listed as a seller.
I did some research and some third-party sellers who sell NEW books are called dropshippers. They offer your book for $10 to $20 over the retail price. If they get a bite, they then buy your book at the actual cost and have it shipped directly to their purchaser. They keep the profit.
It's just crazy.
BACK TO THE ORIGINAL POST OF 12/29/19:
I looked up a number of other books and Amazon was usually the first Buy Option.
But, again, this is not always the case.
And, to add to the problem, the Vox article mentions that Amazon noted they have third-party sellers for lots of other items for sale, not just books.
The old motto, "buyer beware," must be on everyone's mind.
Take care to buy only from 'real' distributors. Help keep the system going strong.
One other thing to be aware of is that publishing houses make more on the sale of books when purchasers buy directly from them.
This also helps keep them going strong.
So, when you're buying a book, check who the publisher is and see if you can buy directly from them.
If you're considering buying my book, Walking Through Walls, why not get it directly through the publisher?
Please help protect the publishing industry and AUTHORS!


Let me take a look at your notes, outline, or draft. I'm a working children's ghostwriter and rewriter/editor. I can turn your story into a book that you'll be proud to be author of.
Shoot me an email at: kcioffiventrice@gmail.com (please put Children's Ghostwriter in the Subject line). Or, you can give me a call at 834—347—6700
Let's get your story in publishable shape today!
Or, if you'd rather give it a shot and do-it-yourself, check out my book, FICTION WRITING FOR CHILDREN.


4 Must-Know Tips to Writing Better Story Endings
The Business Side of Publishing a Picture Book
Picture Books – What Grabs an Editor?