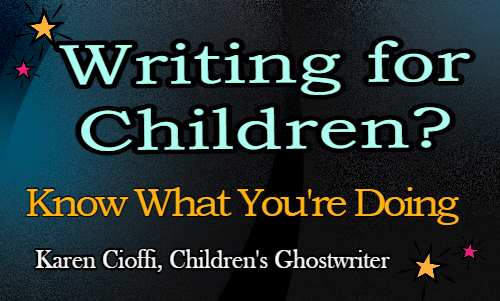 As with anything you attempt to do, it's important to know what you're doing.
My father was a contractor – he built homes.
How structurally sound do you think those homes would have been if he didn't know what he's doing.
Well, the same thing applies to writing for children.
A common problem I see with new children's authors is that they're not familiar with the different genres.
I'll see 2,000-word picture book drafts or 9,000-word middle grade drafts.
I'll also see things like an intended middle grade draft with inappropriate content for the age group.
This also goes for the words you use in your story. Everything must be age appropriate when writing for children.
And, there must be a main character (protagonist).
A story I recently reviewed had no main character. It didn't have a story arc either.
This is common for some new authors. They have a message they want to convey, but don't realize it needs to be within the boundaries of a good fiction story.
Another biggie I notice is middle grade stories with multiple points of view (POV), even to the point of changing POVs within a chapter.
I realize that many people think writing for children is simple.
I mean how hard can it be, right?
Well, it's actually a tough genre.
When writing for children, you must adhere to the industry's standard guidelines. In other words, you need to know what you're doing … you need to play by the rules.
Some elements that pertain to playing by the rules are:
Word count
Sentence length
Chapter length
Story length
Age appropriate content
Age appropriate words
Point of view
Protagonist
Character arc
Story arc
The protagonist must solve the problem and grow in some way as a result of his journey
While there are other factors involved, these are eleven of the most important.
So, before you jump into a children's story, read a lot of books in the genre you want to write. Be sure they're well written, though. A good way to do this is to read recently traditionally published books by the top publishers, such as Simon & Schuster and HarperCollins.
These books will be up to the current publishing guidelines and will be well edited.
I'd also suggest you take some online children's writing courses, read books on writing for children, and possibly get a children's writing coach to help you over the hurdles and on to writing a publishable book.

Whether you need help with ghostwriting or rewriting, or coaching, let me take a look at your children's story. Just send me an email at: kcioffiventrice@gmail.com. Please put "Children's Writing" in the Subject box. Or, give me a call at 347—834—6700
Let's get your idea off the launch pad or your outline into a publishable story today!
Or, if you'd rather give it a shot and do-it-yourself, check out my book, HOW TO WRITE A CHILDREN'S FICTION BOOK.
MORE ON WRITING FOR CHILDREN
Writing a Fiction Story – Walking Through Walls Backstory
Learning to Write for Children – It's More Than Just ABC
10 Rules for Writing Children's Stories