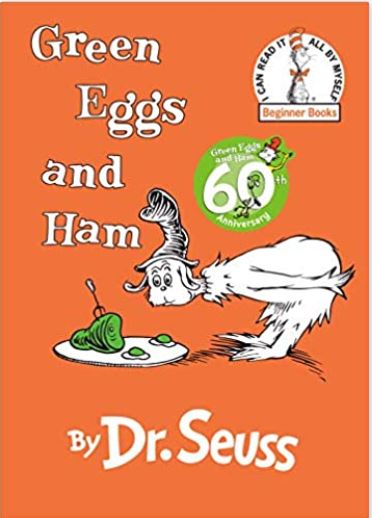 Who would think that a random bet and constraints could lead to a book that sold 8 million copies as of 2019, and would become the best-selling book of the Dr. Seuss series?
When most people think of the word 'constraint', it invokes a negative feeling or idea.
According to the Cambridge Dictionary, the definition of constraint is "something that controls what you do by keeping you within particular limits."
This is where the negative idea comes from.
Children's writers of picture books are bound by the amount of words that can be used to create a grabbing, engaging, and page turning story. This means TIGHT writing.
It makes sense that something that limits you, controls you, isn't a good thing.
Well, according to James Clear, constraints are our friend. Constraints foster creativity and motivate us to work within those limits to accomplish what we need to.
What I found exceptionally interesting is that "Green Eggs and Ham" by Dr. Seuss came about through a bet and constraints.
In 1960, Bennett Cerf, the founder of Random House, bet Theo Geisel that he couldn't write a children's book with only 50 words or less.
The bet was for $50.
Imagine if Dr. Seuss, balked at the idea of writing a story of only 50 words for a bet of a measly $50.
I'm sure you'll find the rest of Clear's article as interesting as I did:
The Weird Strategy Dr. Seuss Used to Create His Greatest Work
Do you desire to become a children's author?

Let me take a look at your notes, outline, or draft. I'm a working children's ghostwriter, rewriter, and coach. I can turn your story into a book you'll be proud to be author of.
Send me an email at: kcioffiventrice@gmail.com (please put Children's Ghostwriter in the Subject line). Or, you can give me a call at 834—347—6700
Let's get your story in publishable and marketable shape today!
Or, if you'd rather give it a shot and do-it-yourself, check out my book, HOW TO WRITE A CHILDREN'S FICTION BOOK.

Writers – 4 Power Tips to Breaking a Bad Habit

Writing Workshops – Getting the Most out of Them

Create a Believable Protagonist with Realistic Characteristics