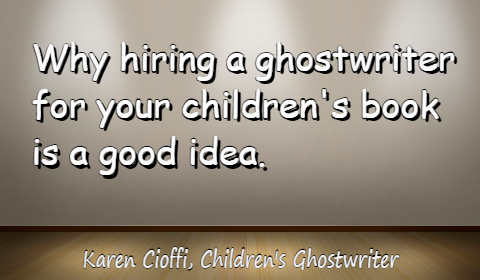 Why Hiring a Ghostwriter for Your Children's Book is a Good Idea
By Suzanne Lieurance, Writing Coach
As the author of over 30 published books (most of them for children) and a former instructor for the Institute of Children's Literature, where I taught a course in writing for children and teens for over 8 years, I've seen my share of awful children's book manuscripts.
The thing is, so many people think that writing a children's book is easy.
In fact, it's so easy anyone can do it.
Well…that way of thinking is just plain wrong.
There are Distinct Guidelines to Follow
Children's writing has some distinct guidelines and those guidelines should be followed whether you want to find a traditional publisher for your book or you
plan to self-publish it.
When you follow these guidelines, not only will you create a more marketable manuscript – meaning, a manuscript editors and other people who buy children's books (teachers, librarians, parents, and grandparents) will be more likely to buy – you'll also create a book that children are going to enjoy reading or enjoy listening to as someone reads the book to them.
This All Takes Time
It takes time to learn and understand these guidelines and even more time (and practice) learning how to apply them as you write for children.
For this reason, if you aren't willing to invest in workshops or other training specifically about writing for children, and then spend months (possibly, even years) learning how to write for children with these guidelines in mind, then it's probably a good idea to hire a ghostwriter to write your children's book.
If you do, just be sure you hire a ghostwriter who specializes in writing for children.
Most writers who only write for adults don't know or fully understand the elements needed in a marketable manuscript designed for the children's book market, so while they may give you a manuscript that is well written, it still might not be very marketable.
A ghostwriter who specializes in writing for children, however, will create a marketable manuscript for the children's book market.
One final word of warning here…
A ghostwriter who specializes in writing for children knows much more about this type of writing than you do.
While you don't have to follow every suggestion of your ghostwriter, be sure you do follow the suggestions that adhere to the basic guidelines established for marketable children's books.
Your ghostwriter will probably go over these guidelines with you, explaining them so you understand why and how suggested revisions to your manuscript (or your idea for a manuscript) need to be made.
Do yourself a favor and follow these suggestions and let your ghostwriter write a marketable manuscript for you.
For more writing tips and other resources for writers, get your free subscription to The Morning Nudge at www.morningnudge.com
MORE ON WRITING FOR CHILDREN
Being a Writer – Learn the Craft of Writing
Critiques are Essential for Writers
Finding Children's Story Ideas


Let me take a look at it. I'm a working children's ghostwriter, rewriter, and editor. I can turn your story into a publishable and saleable book.
Shoot me an email at: kcioffiventrice@gmail.com (please put Children's Writing Help in the Subject line). Or, you can give me a call at 834—347—6700