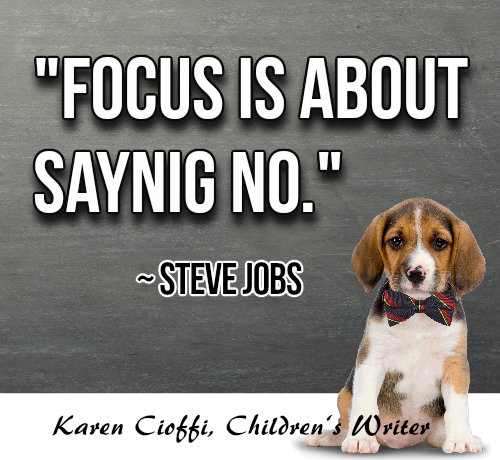 When you say yes to everything, you're saying no to focused things that matter. Things that will help you move forward and create a strong brand.
In addition to this, if you spread yourself too thin, chances are none of your books or products will be quality.
The idea is to do it right by not trying to do it all.
In accounting this is called 'opportunity cost.'
Opportunity cost is when you carefully consider your choices.
For a writer, your choices might be: children's writing, content writing, web writing, health writing, technical writing, email writing, or social media writing. Do you writing novels, short stories, fiction, nonfiction. Do you write fantasy, romance, or historical fiction. Other choices might be whether you freelance for magazines or write books.
While there are other genres, you get the idea.
Whichever choice you make excludes the possible benefit of the other ones you don't chose. So the idea is to choose the strategy that will provide the most benefit.
An example of this is my own writing business.
I started out writing for children then morphed into content writing, focusing on business and health topics.
Choosing the content writing wasn't as profitable as I thought it would be, so added the children's writing to the mix along with academic writing.
A couple of things happened:
1. People, my market, didn't know what I was about. Was I a content writer or a children's writer.
2. I found it more and more difficult to keep up with three websites and producing content for three websites on a regular basis.
3. My brand and focus was weakened.
That's when I carefully reviewed my options and chose children's writing. Now I have a very focused brand.
So, what has all this has to do with Steve Jobs' quote: Focus is about saying no?
You will need to say NO to somethings in order to have a focused brand, to be able to give your all and produce quality books or products.
While it's possible to have more than one focus, keep in mind it could undermine you brand … your … your work … your income.


Whether you need rewriting or ghostwriting, let me take a look at your story. Just send me an email at: kcioffiventrice@gmail.com. Please put "Children's Writing" in the Subject box. Or, give me a call at 347—834—6700
Let's get your idea off the launch pad or your outline into a publishable story today!


Children's Writing and Publishing Process – The Traditional Path
Children, the Environment, and Story Telling