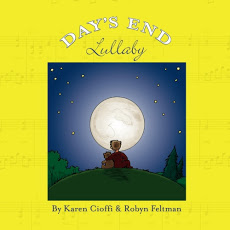 Thanks to Amy Robbins-Wilson, creator of Lullaby Link, Day's End Lullaby is in a video.
Amy did a Google search for "lullaby" and came upon my book. She contacted me and offered to include my book as a review video on her site. But, she didn't stop there, she offered to create a video of the lullaby on YouTube!
Well, Amy kept her word and provided me with links to both the review video on her site, and the video of the lullaby on YouTube.
Here's Amy's review:
Days End Lullaby is a beautiful lullaby book created by Karen Cioffi.
Karen wrote this song when her first daughter was a baby and now it has become a link across generations as she sings it to her grandchildren.
The book is illustrated lullaby lyrics and the sheet music is included in the back. The illustrations are charming! So much so that my son is now asking for a clock with a teddy bear on it.
The music is a beautiful up and down melody that I find myself humming throughout the day. What I especially love about these lullaby lyrics is that they are very reassuring for children. They tell them that the moon is shining bright for them and that their toys will be waiting for them when they wake up.
If you are looking for a sweet book and a new lullaby to reinforce the lullaby links in your family, this lullabook get a big thumb's up!
---
In this video, Amy sings the lullaby:
You can check out Amy's Day's End Lullaby Singing Book Review Video also:
http://www.lullaby-link.com/days-end-lullaby.html
This children's bedtime picture book has the sheet music to the lullaby included as an added feature at the back of the book.
You can get your own copy of "Day's End Lullaby" at:
http://www.amazon.com/Days-End-Lullaby-Karen-Cioffi/dp/1419691570/ref=sr_1_1