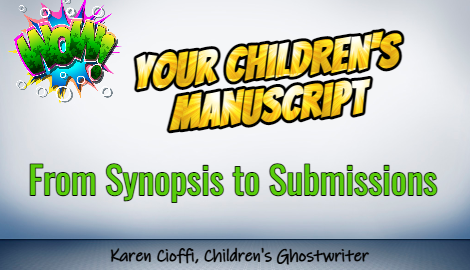 Before you decide to submit a story to a publishing house or literary agency, you'll need a completed and polished manuscript.
This means your manuscript will have been edited and proofed. It should be in the best possible shape it can be.
Once this is done, you'll move on to the next phase.
The Synopsis
Your synopsis is what your story is about. According to Jane Friedman, "The synopsis must convey a book's entire narrative arc."
It gives the editor or agent a quick look at the entire story, including the ending.
The synopsis is a sales pitch for your book, so it needs to be engaging (grabbing) enough to motivate the editor to want to read the manuscript or at least some chapters.
You'll need a synopsis for your query letter.
Keep in mind that a synopsis is different than a description or back cover copy. While the synopsis reveals the ending, the description does not.
The description/back cover copy is intended to motivate the reader to read/buy your book. You should not reveal the ending in the description.
The Cover Letter
You'll most likely need a cover letter if you're writing a picture book, as most publishing houses want the manuscript sent along with the letter.
The cover letter won't need as many details, as a query letter because the editor can quickly read the attached or enclosed manuscript itself.
You'll need a query letter for chapter books, middle-grade, and young adult manuscripts.
The Query Letter
The query letter is similar to the cover letter, only it's more detailed. The synopsis will tell the editor or agent all he needs to know to decide whether he'd like to see the manuscript of some of the chapters.
More about query letters:
Book Marketing and the Query Letter
See below for an example of a query letter.
TIPS FOR SUBMITTING
Study the publishing house guidelines.
It's super-important to study the publisher's website guidelines carefully.
Find out if they're accepting manuscripts in your genre.
You'll also want to know if they allow you to submit the entire manuscript. If they do, then you'll use a cover letter.
If they only want a query letter, you'll use a query letter without the manuscript.
The guidelines page should tell you everything you need to submit to that publishing house.
Unsolicited manuscripts.
If you're unagented, you need to be sure the publishing house you're submitting to accepts unsolicited manuscripts.
Unfortunately, the big publishing houses don't usually accept unsolicited manuscripts. You might consider smaller presses.
But it you've met an editor at a writing conference or workshop, or elsewhere and she requested your manuscript, then you have a invitation to submit.
Find complementary books.
If at all possible, review a few of the publisher's titles. If you can find one or two slightly similar to yours, mention it: I feel my story would complement ones already on your list, especially (title of book). Add it at the end of the paragraph where you're requesting the editor to consider your manuscript.
The connection could be related to humor, school, social issues, sports, politics, friendship, family, etc. Just be sure not to make up a connection.
A good way to find out if a book is suitable for this is to read the book's description on the publisher's site or on Amazon.
If you can't find any that your book will complement, leave it out.
In its place, put a brief sentence or two as to why you're submitting to them. It may be that you love a particular title of theirs or something else.
If at all possible, try to make it personal as to why you chose their publishing house to submit to.
The editor's name you're submitting to.
When addressing the individual you're submitting to, try to find the actual editor's name. You may need to contact the publishing house directly to ask for it. If you can't find it anywhere, use "Dear Editor."
Simultaneous submissions or exclusivity.
If you're submitting to multiple publishers at the same time, pay attention to whether they allow simultaneous submissions or require exclusivity.
If they accept simultaneous submissions, you can submit to other publishers at the same time; this should be limited to five at a time. Just be sure they each accept simultaneous submissions.
If they prefer exclusive submissions, you can only submit to that publishing house. They usually expect three months to decide on a project.
You may or may not receive a rejection letter within that time. Feel free to submit to other publishers after three months if you don't receive one.
Either way, add a last line before "Sincerely," mentioning whether it's simultaneous or exclusive.
EXAMPLE: This manuscript is a simultaneous submission.
The SASE.
If you're using regular mail to submit your manuscript, include a self-addressed, stamped envelope. (SASE). The publisher's site will advise whether to submit by email or regular mail.
Submitting via email.
If submitting email, pay attention to whether the publisher wants the query letter and manuscript attached to the email or in the body of the email.
Tools to use.
If you're a children's writer, it'd be a good idea to get the most recent edition of Children's Writer's & Illustrator's Market.
EXAMPLE OF QUERY LETTER
Author name
Address
Phone number
Email 
Website

Date

Publishing House name
Address or Email (depending on how you're submitting)

Dear, Editor's Name,

At twelve years old, Wang wants to be rich, powerful, and famous. He's done working in the wheat fields with his father. He believes becoming an Eternal will allow him to get what he wants, so he journeys to the Lao Mountains to find them. Becoming an Eternal apprentice is hard work with no benefits, so he decides to leave, but only after learning how to 'walk through walls.' With his new magic, he is intent on stealing from the wealthy. About to enter a rich man's home, he stops. The lessons he learned as an apprentice flood over him. He journeys back to the Lao Mountains the next day to finish his apprenticeship.

Set in 16th century China, WALKING THROUGH WALLS is a 10,000-word chapter book based on an ancient Chinese tale. It is filled with magic, adventure, and subtle lessons on being a good citizen and a good friend.

I would like to submit my manuscript for your consideration. According to your guidelines, I've attached the first three chapters. I feel this book would complement other titles on your list, especially, XXXXX.

I'm a children's author and ghostwriter with clients worldwide. I have three traditionally published children's books and two self-published books. I have an established author/writer website, and I'm an author online platform instructor with WOW! Women on Writing.

Thank you for your time and consideration. I look forward to hearing from you.

Sincerely,
Karen Cioffi
References:
https://marykole.com/how-to-write-a-book-proposal 
https://www.masterclass.com/articles/how-to-submit-a-book-manuscript-to-an-agent#how-to-submit-your-manuscript-to-an-agent-in-6-steps


I'm a working children's ghostwriter, rewriter, and coach. I can help turn your story into a book you'll be proud to be author of, one that's publishable and marketable.

Contact me at: kcioffiventrice@gmail.com. Or, you can give me a call at 834---347---6700

Or, if you'd rather do-it-yourself, check out my book, How to Write a Children's Fiction Book.