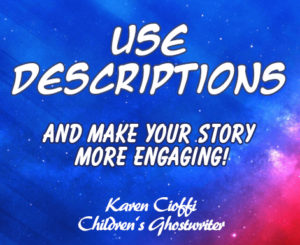 Using descriptions can be a powerful writing tool. The most important thing to keep in mind is to use your imagination. Close your eyes and picture what your character is doing. Picture what the scene looks like then paint it with words.
Below are four tips to help you get a handle on writing descriptions.
1. You've got to engage your readers.
How do you do this? By showing them what's going on.
Let the reader:
– Smell what the character is smelling.
– Hear what the character is hearing.
– See what the character sees.
– Feel what the character is touching.
– Taste what the character is tasting.
Let the reader feel like she's there. Use your character's senses to describe (show) what's going on.
2. Use descriptions in action scenes.
Using an excerpt from my middle grade fantasy adventure Walking Through Walls, I could have said just said it was hot. But that wouldn't show how hot it was for the protagonist, Wang.
The sun beat down on the field. Sweat poured from the back of his neck drenching the cotton shirt he wore. He hurled the bundles on a cart.
I used description to show the action scene. This helps engage the reader.
3. Use description to emphasis the scene.
While you should write tight, sometimes it's powerful to use description to bring the reader into the scene. In the excerpt below, the protagonist of Walking Through Walls is on a path that could change his life forever:
Deep in thought Wang did not notice the black cat that crossed his path, or the black raven that swooped and almost landed on his head. He did not even notice the silver snake with the purple tail that slithered along beside him on the road. Wang only noticed that each step took him closer to the merchant's home and the beginning of the road leading to his destiny.
I could have simply used a version of the last sentence to say he didn't notice anything. But, this wouldn't allow the reader to know what was going on around him – how absorbed he was in fulfilling his dream. It wouldn't bring the reader into the scene.
In addition, the description used for that scene is brought up later in the story. So, it's also helping move the story forward.
4. Don't use description dumps.
While it's essential to use descriptions in your writing, you don't want to overdo it. And, you don't want to give description dumps.
What this means is avoid going beyond what is needed to engage. Yes, authors did it years ago – they'd elaborate on descriptions for sometimes pages. And, I would think it gave the writer a sense of freedom to be able to describe in full what she was imagining – not having to worry about tight writing. But, it won't fly today.
Today is about writing 'lean and mean.' It's about thinking carefully about your word choices, your descriptions, and your character's backstory. If you can say it effectively in two words rather than six, do it in two.
It's about making sure everything thing in your story is moving the story forward. No sidetracking for a beautiful description. No sidetracking for over elaborating.
Weigh what will work and what is too much. Use balance in writing descriptions in your story.


Writing with Clarity
Writing Rhyme in Children's Stories  
The Writing Elements Mix – Is There a Right Balance?
WANT TO WRITE A CHILDREN'S BOOK?
Being a writer, like being any kind of artist who creates something from nothing, is an amazing ability. It's almost like magic. And, you are in control. You decide what to create. The only limit you have is the cap on your imagination.
Check out Fiction Writing for Children. This 180 page ebook  gives you all the basics of writing fiction for children, finding a publisher or agent, and marketing your books.