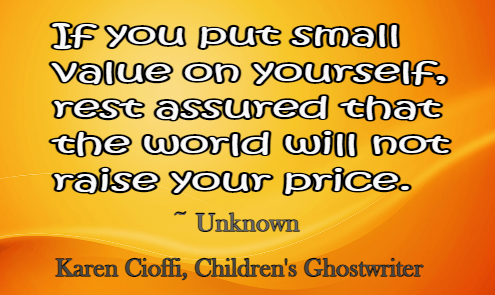 "If you put a small value on yourself, rest assured that the world will not raise your price."
I wish I knew who wrote this – I'd love to give him or her credit.
This quote is so appropriate for all writers. You have to value your writing skills and your expertise, especially when you're starting out. But, even seasoned writers struggle with this problem.
As a writer, you need to set your prices and stick to them.
If you're not sure what you should charge, search the internet. Find services similar to yours – this should give you a sense of what to charge. Just be sure to take into account your level of experience and adjust your fees accordingly.
Another thing to consider is how much time it will take you to complete a project, if you'd rather charge per hour rather than by project. And, always anticipate it will take longer or be more work than you originally anticipated.
I almost always charge by project.


Whether you need rewriting or ghostwriting, let me take a look at your story. Just send me an email at: kcioffiventrice@gmail.com. Please put "Children's Writing" in the Subject box. Or, give me a call at 347—834—6700
Let's get your idea off the launch pad or your outline into a publishable story today!


Working with a Children's Ghostwriter – The Process
Book Marketing – The Foundation
How to Write a Story