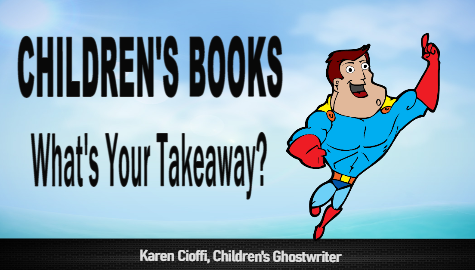 Most of my clients know what they want the takeaway of their book to be. 

It may be to demonstrate kindness, overcoming fear, being a good friend, learning responsibility, learning about conservation, becoming self-confident, learning coping strategies, realizing the importance of family…

Now and then, though, I still get clients who think a list of events constitutes a good story. And they have a tough time understanding the elements that need to go into making a story work, such as character arc, story arc, and plot. They also don't understand that a children's book should have a takeaway.

What is a book's takeaway?

According to Merriam Webster, a takeaway is "a main point or key message to be learned or understood from something experienced or observed."

With this in mind, the takeaway is what's valuable in the book – the message it conveys. It's what the reader will find memorable or worthy of remembering. 

This is important when writing for children because you want the reader to leave the book learning something, even if subconsciously. 

Examples.

Using my middle-grade fantasy, "Walking Through Walls," the protagonist, Wang, begins as a selfish and lazy kid. His journey to become a Master Eternal, in order to become powerful and wealthy, changes him for the better.

Along with Wang becoming more than he was or better than he was, the reader can see how it came about and the value in those changes.

By the way, "Walking Through Walls" is a cross between a chapter book and a middle-grade and is a great book for the reluctant reader.

Another example is "Stephanie's Ponytail" by Robert Munsch. 

The kids in Stephanie's class copy every hairdo she creates. Finally, she outwits them and they never copy her hairdo again. 

As well as being a fun read, the takeaway in this book is teaching children about creativity, independence, self-confidence, imagination, and being daring. It could very well inspire them to the same actions.

So, as you're writing your children's story, think of the takeaway. What message do you want to instill in the reader?


Whether you need help with ghostwriting, rewriting, or coaching, let me take a look at your children's story. Just send me an email at: kcioffiventrice@gmail.com. Please put "Children's Writing" in the Subject box. Or, give me a call at 347---834---6700.

Let's get your idea off the launch pad or your outline into a publishable and marketable story today!

Or, if you'd rather give it a shot and do-it-yourself, check out my book, HOW TO WRITE A CHILDREN'S FICTION BOOK.