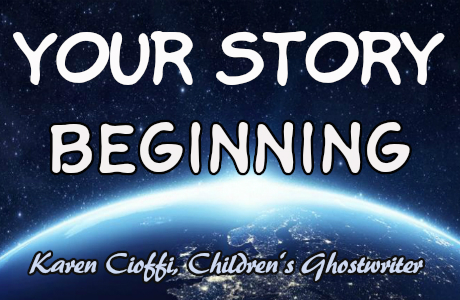 With all the information online about writing, I still get clients who start their stories with backstory, boring introductions, or with a number of characters leaving the reader in the dark as to who the protagonist is.
The beginning of your story, whether a picture book, chapter book, or middle-grade, is to provide the reader with some key information.
The story should start with the protagonist.
You need to quickly establish a connection between the reader and the protagonist.
The reader needs to know at the beginning who's taking them on the journey, who's point-of-view they're being privy to.
Keep the beginning in the present.
Starting the story with something like:
Alicia looked at herself in the mirror as she thought about her life before. She was a hair stylist in a high-end establishment and loved her job. That is until her boss took on a partner. Things went downhill from there. Having to quit, it took her six-months to find another job. And that job was in a low-end place she swore she'd never work at.
The opening paragraph above is considered information dump. It's there solely to let the reader know the protagonist's past.
While some of the information may be important to the story, it shouldn't be dumped in the beginning.
Instead, you might start it like:
"Hey, Alicia," called Juan. "Your 3 o'clock is here. I'm sending her back."
Alicia looked at herself in the mirror. How did this happen? What am I doing in this dead-end job?
This brings us to number three.
Start your story with action.
The latter scene in number two is action related, but it doesn't have to start with dialogue.
You might have the protagonist angry with his best friend.
Josh stood with his arms folded and his eyes narrowed as he watched Branden talking to Mia. What's he doing talking to her? He knows I like her.
OR …
Josh stood with his arms folded and his eyes narrowed. "I saw you talking to Mia. You know I like her."
Branden shrugged. "It's no big deal."
Josh got even more angry.
OR …
Max looked at the rock-climbing wall. Man, it's high. His body tensed as he put his foot on the first rock that jutted out. He looked at the crowd that gathered in the gym to watch him. Why'd I accept this stupid challenge?
OR …
Wang tied the last bundle of wheat and hurled it into the cart. He wiped the back of his neck then pulled the cart up the hill. Looking back at his father, who leaned on his shovel, hunched over, Wang mumbled, "This is not the life for me."
The action doesn't have to be life or death, but it needs to let the reader get an idea of know who the protagonist is. It should give the reader something to latch onto.
Editor Mary Kole of Good Story Company said, "the underpinning of action is conflict."
In the first and second scenarios, Josh is having a problem with his friend.
In the third scenario, Max is afraid. Maybe he's afraid of failing, or afraid of being made fun of if he can't climb the wall.
In the fourth scenario, Wang doesn't want a fate like his father's. He doesn't want the back-breaking work and sweat of tending the wheat fields.
These are just one paragraph examples, but they should give you an idea of how to create effective beginnings for your stories.
Just remember that your story beginning should make the reader want to know what's going on. It should motivate him turn the page.
NEED HELP WITH YOUR STORY?
Whether you need help with ghostwriting, rewriting, or coaching, let me take a look at your children's story. Just send me an email at: kcioffiventrice@gmail.com. Please put "Children's Writing" in the Subject box. Or, give me a call at 347—834—6700
Let's get your idea off the launch pad or your outline into a publishable and marketable story today!
Or, if you'd rather give it a shot and do-it-yourself, check out my book, HOW TO WRITE A CHILDREN'S FICTION BOOK.
MORE ON WRITING FOR CHILDREN
Secondary Characters – Are They Important?
Be a Successful Writer Even if You Don't Think You Have Enough Time
LIKE THIS POST? PLEASE SHARE!