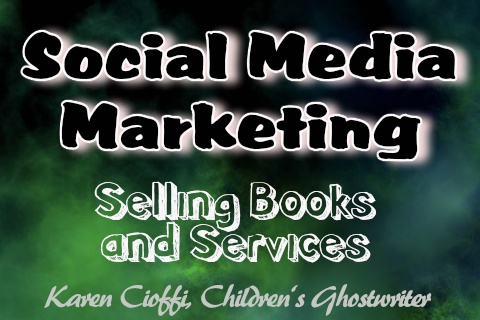 I'm a children's author, children's ghostwriter and coach, and an online author platform instructor with WOW! Women on Writing.
Because of this, I pay attention to marketing.
Recently, I listened to a webinar through AWAI. It was presented by Ilise Benun, a self-marketing expert.
The topic, while a couple of years old, was on using LinkedIn as part of your marketing strategy. After listening to it, I feel the information is still pertinent today.
I like LinkedIn. Did you know it's also a search engine for professionals?
In fact, it's the only social media network I've gotten work through.
Benun started her talk with 'word of mouth'.
For years one of the marketing tools always mentioned was word-of-mouth.
Well, according to Benun, word of mouth is passive marketing. "A euphemism for whatever comes along."
You need to be proactive in your marketing and a key element of that strategy is to use social media. And, this is important whether you're selling books, services, or products.
How do you use social media effectively?
While the webinar focused on LinkedIn, these tips can be applied to any platform you're marketing yourself and your books, services, or products.
Keep in mind that the purpose of marketing on social media is to find prospects and position yourself to get them as clients or customers.
Before I go on, I'd like to distinguish between a client and a customer.
According to Small Business Chron, "Customers buy on price and value. Clients buy on experience and trust."
I love this explanation because it's so easy to understand.
Someone buying my book "How to Write a Children's Fiction Book" is a customer.
Someone paying for my children's ghostwriting services is a client.
Simple. Right? And, see how I worked in some promotion. 😊
Okay back to social media marketing on LinkedIn.
Your Profile.
As mentioned, you want to find prospects, whether clients or customers, and get them to buy from you or use your services.
To do that, you need to position yourself.
What this means is you need to set yourself apart from other businesses or services that offer the same thing. You do this using your LinkedIn profile (and all your other social media profiles).
A. The title
According to Benun this is prime real estate. It should convey exactly what you want a prospect to see.
This will usually be your name unless your business is more identifiable to the public.
I'll stray from this webinar to what Neil Patel has to say about your social media profile.
According to Patel:
B. Your username and URL.
Keep in mind that you're creating a brand that needs to be consistent.
I admit I didn't take care when coming up with my social media usernames.
On LinkedIn it's Karen Cioffi-Ventrice
On Twitter it's KarenCV.
On Facebook it's Karen Cioffi writing for children
On Pinterest it's Karen Cioffi
Unfortunately, once you create your username you're stuck with it. At least that's usually the case.
If I had to do it over, I'd be Karen Cioffi, Children's Ghostwriter on everything.
Think it through before creating a username and be consistent throughout your branding. On mine, the only thing consistent is my first name.
My URL is the same for all networks.
C. Your profile picture.
You have a choice between your headshot and your logo.
I did a combination. I had a caricature done at a wedding and decided to use it as part of my children's writing branding. The problem though is it's not professional.
It looks pretty good, but he must have hiccupped when he came to my chin. So, I do need to get it touched up or get it professionally done.
Also, when using your logo, there will be instances when you need to use an actual headshot for interviews or joint ventures, so be prepared with a professional one. That's something else I have to take care of.
Use whatever you're most identifiable with or what you want to be identifiable with.
D. Your link.
This needs to be considered carefully. Where do you want to send prospects to?
You can send people to your landing page, your sales page, and opt-in page, or other. Whichever it is, it should be a page that will help motivate the visitor to take action.
I use my landing page as it's kind of a sales page too and it's consistent on all my networks.
Back to the webinar.
The summary or about information.
This is where you can go into detail – depending on how many words or characters you're allotted.
LinkedIn gives you enough to get into it, so take advantage of it.
A lot of copywriters write their summary/about in first person and some make it more personal and creative than others.
This is the place to put keywords and address what the prospect needs to convince him you're the girl for the job.
Benun also says to include 'expert' if you believe you are an expert in your field. She said it makes a difference.
I recently revised my profile on LinkedIn, but don't remember if I used the word expert. I'll have to check it.
Also, use call-to-actions. Tell the prospect what you want her to do. And, speak directly to your best prospect and use the word 'you' a lot.
And, be sure to include your contact information in the summary even if it's not clickable.
Your background or cover image.
This is another important element of branding and it's important for it to be consistent throughout your platform.
Below is my social media banner for all my networks. It's an older version, but the colors and basics are all the same:

I chose the colors specifically and created the design with Laughingbird software. It's pretty easy to use and they have lots of how-to videos and lots on what you can do with it. I've used this product for years and am an affiliate with them.
Your header, background image, and banner will tell a lot about your business. As of the writing of this article, the dimensions of a LinkedIn banner is 1400 x 425 pixels.
Don't leave the social network's default image.
Be active and post on LinkedIn.
I used to do this. I'd take an older article on my website and post it to LinkedIn or Facebook. But I ended up stopping. But, I'll try to make the time to restart with LinkedIn.
I do post updates to LinkedIn through social media buttons on my site and I have a social media VA who posts my articles about 10 times a day, but it's not the same as having a full article on LinkedIn.
Again, LinkedIn is a search engine.
Other places I post articles are to Google and AuthorsDen. I only do this once a month, but it keeps me visible and appearing active.
Share and Recommend.
Share the content of others on LinkedIn.
I do this almost every day whether on LinkedIn itself or if I'm reading an article on a website. If it's valuable, I always share.
You should also recommend others, if you know the quality of their work. If you do, the person will most likely be willing to recommend you.
Why not go over all your social network profiles and make sure they're up to date and working for you.
NEED HELP WITH YOUR AUTHOR PLATFORM?
Build Your Author/Writer Platform
This 4-week in-depth and interactive e-class through WOW! Women on Writing covers all the tools you'll need to build visibility and traffic, and boost sales.
CLICK THE LINK ABOVE to check out all it includes!
MORE ON WRITING FOR CHILDREN
Writing Success – Do You Really Have the Power?