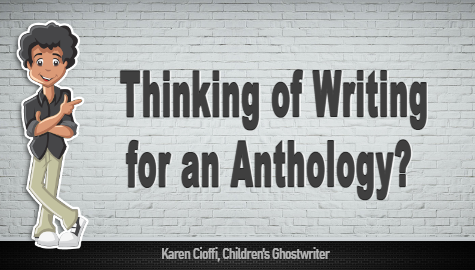 Thinking of writing for an anthology? I have been for quite a while now, but just can't seem to find the time to do the research and submit.

Well, if you have been thinking about it, I have a guest post by Sharon Blumberg, who's been there and done that.

Here it goes:

If you are not familiar with writing for anthologies, we will discuss more about this topic. An anthology is a completed work of writings that are submitted and accepted into a book by the editor and publisher. It is always based around a given theme, so it is important to follow the guidelines when writing for them, including the writing genre. 

One of the advantages of writing for anthologies is that your story contribution is generally longer lasting than that of a magazine, and the anthology fills a hole within the writing market. I have contributed my writings to a number of anthologies. Please see them on my Publications page: https://sharonoblumbergauthor.com/publications/

When writing submissions are being offered and announced by the editor, they come in many forms. Among these forms are open, closed, mixed, or open/closed. It is important to make note when these are listed, because these conditions state who may apply. 

For example:

Open means a wider range of writers may submit.
Closed means that the prospective contributor is invited only by the editor. 
Mixed means that it may be open or closed at different points in time. 
Open/Closed means the editor will let writers know if submissions are open, when they are open, or closed when they are closed.

Some anthologies have already secured publishers, where in some cases, a publisher may not yet be secured. Self-publishing is also an option for the editor to consider after editing and compiling the story collections.

Anthologies and Writer Rights

There are a number of rights anthology writers receive such as First Rights, First Anthology Rights, Anthology Rights, and etc. You should make sure you understand what the rights mean upon signing your acceptance contract to the themed collection. In this way, you will know how to proceed in using your published contribution as a reprint to future publications.

If you are interested in writing for anthologies, how do you find them? 

The easiest way to find them is by doing research. You may use various search engines to look up writing anthologies looking for writers, anthologies searching for contributors, etc.

Other great places to research writing markets looking for anthology writers would be social media platforms, writing organizations, Funds for Writers, who offer informative articles for writers, along with writing markets, including, anthologies. 

Another good one is Chicken Soup for the Soul book series. They always offer new upcoming books as they ask for contributors, so watch for the dates and themes. Poets & Writers Magazine's classified sections, always list anthologies asking for writers.
 
Please find the websites below. 
https://www.pw.org
https://www.fundsforwriters.com
https://www.chickensoup.com 

ABOUT THE AUTHOR

Sharon O. Blumberg is a recently retired school teacher, having taught seventh grade Spanish and Language Arts for over 20 years. In addition, she is a writer and voiceover artist. She is married with two grown children and young, twin grandchildren. She currently resides in the Austin area of Texas with her husband. When she is not reading or writing, she loves spending time with her family and friends, and going on long walks.



Whether you need help with ghostwriting, rewriting, or coaching, let me take a look at your children's story. Just email at: kcioffiventrice@gmail.com. Please put "Children's Writing" in the Subject box. Or, give me a call at 347---834---6700.

Let's get your idea off the launch pad or your outline into a publishable and marketable story today!

Or, if you'd rather give it a shot and do-it-yourself, check out my book, HOW TO WRITE A CHILDREN'S FICTION BOOK.