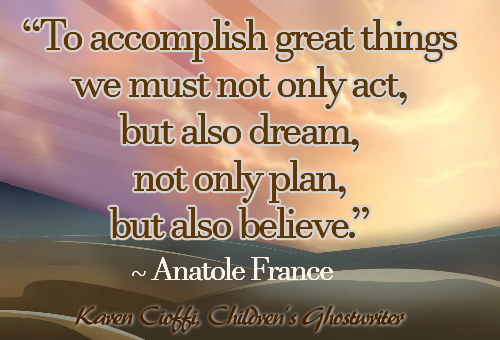 "To accomplish great things we must not only act, but also dream,
not only plan, but also believe."
~ Anatole France
There are so many amazing quotes out there that focus in on what needs to be done to succeed in business (writing is a business), and does it in a sentence or two.
The quote above from Anatole France, does just that.
It reminds me of the Bible quote: "Faith without works is dead."
No matter how much planning you do, if you don't take actionable steps, you won't get anywhere. And, if you can't dream it or believe you can accomplish it, you no doubt won't.
You need to 'walk the writing walk.'
Create your writing plan with doable steps and then actually follow through.
If you notice, I said to create doable steps. If you create unrealistic, unobtainable goals, you're setting yourself up for failure.
It's small actionable steps that you can actually do that will motivate you.
Regularly accomplishing small goals gives encouragement and confidence. This will keep you moving forward.
And, be sure to take a step back 'now and then' to evaluate how you're doing and to dream of your next plateau.
NEED HELP WITH YOUR CHILDREN'S STORY?
Whether you need editing, rewriting, or ghostwriting, let me take a look a your children's story. Just send me an email at: kcioffiventrice@gmail.com. Please put "Children's Writing" in the Subject box. Or, give me a call at 347—834—6700
Let's get your idea off the launch pad or your outline into a publishable story today!
Or, if you'd rather give it a shot and do-it-yourself, check out my book, FICTION WRITING FOR CHILDREN.
MORE ON WRITING
7 Steps to Writing Success Through Positive Thinking
Focus, Determination, and Perseverance = Writing Success
4 Realities New Writers Need to Face