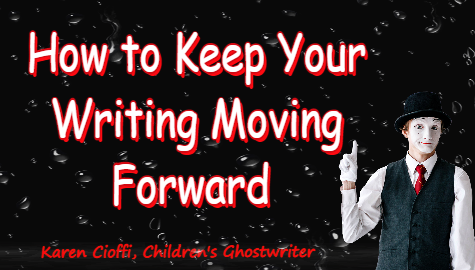 Contributed by Regina Montana
Ever get stuck thinking of what to write next? Ever afraid the next idea just won't come?

Well, here are two ideas to release you, dear writer, from the stress of what to write next or how to get your protagonist from point A to point B.
1. Get out of yourself and learn a new skill
I've mentioned this numerous times to friends and family, I have always wanted to learn the organ.  I have very basic piano skills that I learned as a teenager.  I can play a simple piece as long as there are just a few sharps and flats.  So, the opportunity recently arose for me to learn the organ.  

How could I refuse? My pastor said I could practice on our chapel's small electric organ.  In return, I would try out my skills before mass this summer while people are entering and exiting the church.  So I would just provide some uplifting music before the services began.  

I would have almost 6 months to get my skills up to par.  It is said that when we try different things, we often hone our skills in our target area, read "writing ability."  As I write this blog post, I await my first organ lesson next week.  I will keep you posted as to how it progresses.  
2. Volunteer.  Do one small thing for someone else
In his book Life is Messy, author Matthew Kelly writes about what constitutes the good life.  People often think it is about achieving material success: a big house, a nice car, travel opportunities and the perfect job.  He does not discount these things unless these things are "all you've got."  

The last two pages spell out the answer.  Fill your life with goodness.  So what does that consist of?  The author says that to live the good life, we must give of ourselves by being kind, generous, helpful and well, yes, good.  But good in a staggering way.  

We all have gifts waiting to be tapped.  When we use our gifts and give of ourselves, we are lifted up and get a real sense of the good life.

And, by implementing these two ideas, we can lighten up and declutter our minds by focusing on new projects and helping others.  Then, voila!  That empty space might just fill up with inspiration, and, with some luck, the perfect ending for your children's book.
ABOUT THE AUTHOR

Regina is a children's literature writer of poems and picture books. She has written for the ezine Kids Imagination Train, and is a member of Children's Book Insider where she contributed two articles to, as well as a member of SCBWI.  Regina is also a teacher with a Master of Education Degree.  She has raised two children of her own and is now a grandmother of 5 who give her lots of ideas when she listens carefully.


Whether you need help with ghostwriting, rewriting, or coaching, let me take a look at your children's story. 

Just send me an email at: kcioffiventrice@gmail.com. Please put "Children's Writing" in the Subject box. Or, give me a call at 347---834---6700.

Let's get your idea off the launch pad or your outline into a publishable and marketable story today!

Or, if you'd rather give it a shot and do-it-yourself, check out my book, HOW TO WRITE A CHILDREN'S FICTION BOOK.
 
MORE ON WRITING FOR CHILDREN
12 Tips on Polishing Your Novel


Don't Worry About Writing Failures


What Does Fiction Writing and Film Editing Have in Common?